Birds' colors are, for many, one of its main attractions. In this post you will find the Most Colorful Birds of Colombia and where to find them.
Gray-breasted Mountain Toucan
Andigena hypoglauca
This is a colorful toucan of the high Andean cloud forest. You will find that its beak with coral, black and yellow stripes separates it from all others of its kind. It also has shades of yellow, red, rufous, brown and gray all over its plumage.
We recommend you to visit Hacienda el Bosque, located over 3000 m, and only 30 minutes by car from Manizales, in the department of Caldas. There you will be able to observe this high mountain toucan in all its splendor.
White-tipped Quetzal
Pharomachrus fulgidus festatus
This colorful bird is from the Colombian Caribbean. You can observe it in the Sierra Nevada de Santa Marta, in the vicinity of the El Dorado Natural Bird Reserve, or in the famous Cuchilla de San Lorenzo (San Lorenzo Ridge).
The word Pharomachrus comes from the Ancient Greek pharos, which means "mantle", and makros which means "long". It refers to the wing and tail coverts of the quetzal. On the other hand, the word fulgidus comes from Latin and means shining, glittering, radiant.
And as if that weren't enough, the endemic subspecies of Colombia, has the name festatus, which means festive. So, you can imagine the beauty that this bird embodies.
Fiery Topaz
Topaza pyra
This hummingbird is one of the biggest and, probably, the most colorful in Colombia. The male is the one who wears this beautiful plumage, in a big body size of ~22 cm, including bill and tail.
Moreover, this is a bird that you can find throughout the Colombian Amazon region. However, we recommend you to visit Mitú, in the department of Vaupés, in Colombia, because there you can easily observe this bird.
Turquoise Dacnis
Dacnis hartlaubi
This is a tanager endemic to Colombia. It does not have many colors; however, the electric blue of the male attracts a lot of attention. It also has a black mask on its face, especially prominent, and a sharp yellow eye.
In Colombia you will be able to see the Turquoise Dacnis in the central and western mountain ranges, from 1,300 to 2,200 meters above sea level.
We recommend the department of Risaralda, where you can watch it in the rural areas and also in its capital city: Pereira. Near Bogotá you can watch it in the Pedro Palo Lagoon.
Keel-billed Toucan
Ramphastos sulfuratus
This toucan is found in northern Colombia and occupies various habitats. Two subspecies are currently recognized: Sulfuratus and brevicarinatus; the latter is found in Colombia.
It is a big and unmistakable bird, its beak is huge and with rainbow colors: red, green, blue, orange. Additionally, it has a green ring around its eyes that contrasts very well with its lemon-yellow neck, throat, and chest, edged with a fine red line.
It is a spectacle that you can see all over the Colombian Caribbean below 1600 m above sea level.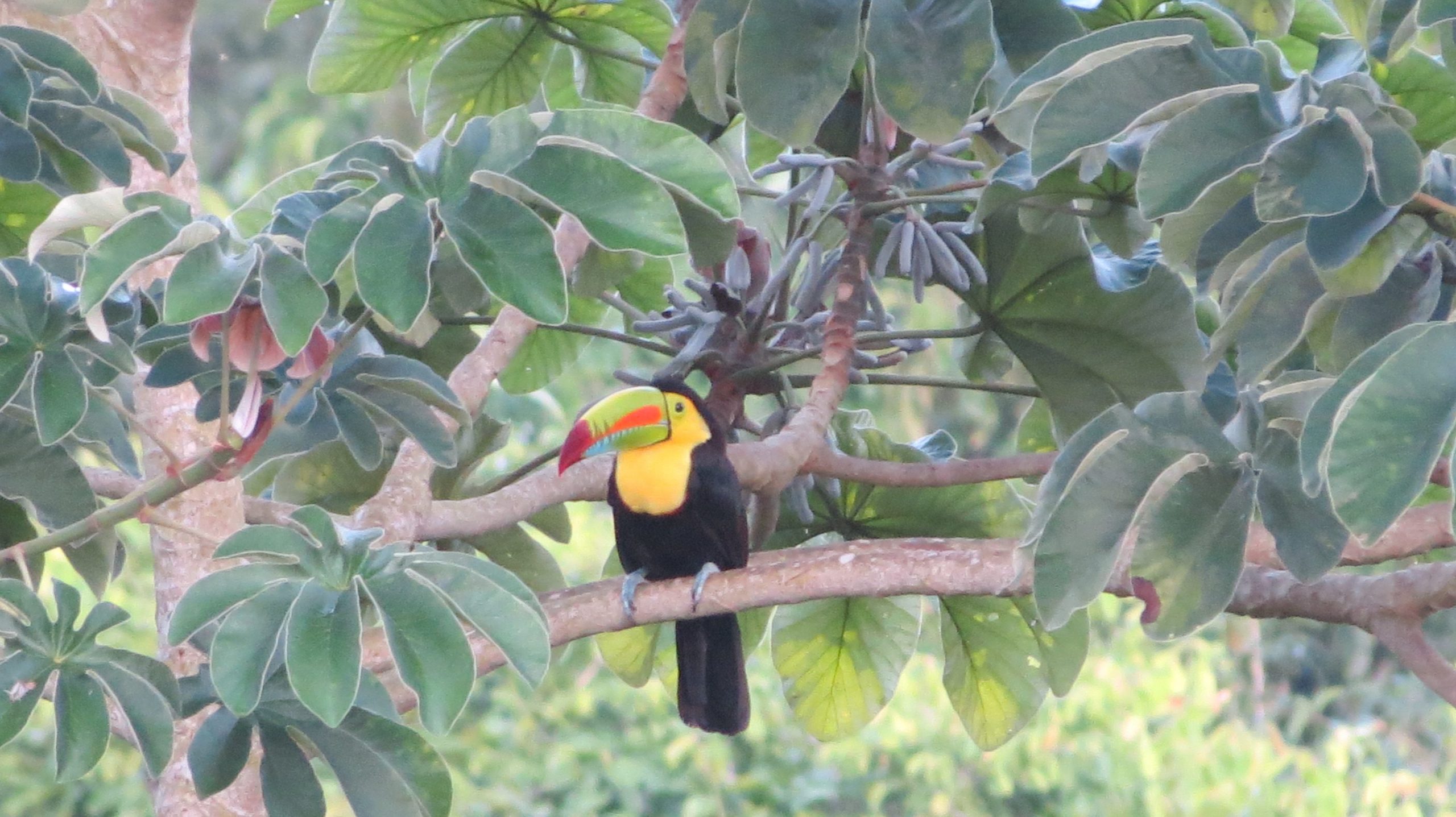 Red-fan Parrot
Deroptyus accipitrinus
This is a green parrot that seems to have nothing in particular. However, its throat and belly feathers are red with wide blue margins, its forehead is white, and the sides of its head and neck are striated with white.
When excited, this bird spreads the feathers of its nape, forming a crest like a crown around its head. It is very impressive and it is no wonder why the local indigenous people call it the Cacique parrot, Cacique means king.
In Colombia, you will find the subspecies accipitrinus, and you will be able to see it in the eastern end of the country, from Vichada to Vaupés departments, up to 400 m above sea level. We recommend you visit the Cerrito Verde trail in Mitú to watch this bird, in the company with the amazing local guides.
Toucan Barbet
Semnorinis ramphastinus
This is a spectacular bird and almost endemic to Colombia. Here we call it Compass. The Toucan Barbet has a gray throat, red chest and belly, black cap, a thick white stripe behind the eye, and a thick yellow beak with a black tip. These colors make them unique among the Barbets. They are also striking for their singing.
You will find this bird in the cloud forests of western Colombia, in the Pacific Region. We recommend you to visit Anchicayá, km 55 El Descanso, in the department of Valle del Cauca. There you will have the opportunity to see them, record them, photograph them, and listen to them in all their splendor.
Red-headed Barbet
Eubucco bourcierii
This is a widely distributed bird, but that does not stop it from being eye-catching. The male is unmistakable with a bright red head, green back, yellow belly, and thick yellow beak.
It is a bird that you can easily see in the region of IBA/AICA "Bosque de Niebla San Antonio – Kilometro 18" in places like La Minga Ecolodge, or Finca Alejandría, in the department of Valle del Cauca.
Also in the Coffee Axis, for example, in the Otún Quimbaya Flora and Fauna Sanctuary.
Wire-tailed Manakin
Pipra filicauda
This little bird is spectacular. It has very long caudal filaments and penetrating white eyes. The male is bright yellow from the face to the ventral region and bright red from the crown to the mantle, contrasting with the rest of his body which is deep black.
This is a bird that invites you to know the Colombian Orinoco. You can see it in the Hato la Aurora – Ecolodge Juan Solito, or in the Reserva Altagracia – Ecolodge Buenaventura in the department of Casanare.
You can even convince yourself to visit more remote regions in the departments of Guainía and Caquetá, with the excuse to follow the colors of this bird.
Saffron-headed Parrot
Pyrilia pyrilia
This parrot is widely distributed in Colombia, up to 1600 m above sea level.
It is mostly green, but its head is bright yellow and has a very prominent white eye ring. It also has shades of yellow, blue, red, and copper in its flight feathers.
You can observe this parrot in several highly recommended places such as the Rio Claro Reserve in Antioquia.
Orange-billed and Golden-winged Sparrows
Arremon aurantiirostris and Arremon schlegeli
Sparrows and brush finches are not the most colorful birds, we know, but there are two species that call special attention for the composition of their colors. These are the Orange-billed Sparrow – Arremon aurantiirostris and the Golden-winged sparrow – Arremon schlegeli.
The Orange-billed Sparrow, as its name suggests, has a strong orange peak, it practically glows in the dark. It also has a black and white head, black chest, and white throat. Although it is widely distributed in several countries, you will not find species similar to this bird. In Colombia you can find it all over the Andean region up to 1200 m above sea level.
On the other hand, the Golden-winged sparrow has a more restricted distribution. It looks very elegant, with a brilliant yellow beak and an open black ring around its neck.
Baudo Oropendola 
Psarocolius cassini 
This beautiful bird looks like it is wearing makeup. I can imagine it putting it on before going anywhere in the forest, rubbing a pink powder on its cheeks and a salmon-red lipstick on the tip of its beak. For the rest, it is a chestnut-colored bird adorned with bright yellow feathers on its tail.
It is an endemic bird of Colombia, which is distributed to the north of the Pacific region in the departments of Chocó, Risaralda, and Antioquia.
To get to know the Baudó Oropendola, you will have to visit Santa Cecilia in Risaralda, where it wanders around the town; or go to El Valle and the Utría National Natural Park in Chocó.
Chestnut-breasted Chlorophonia
Chlorophonia pyrrhophrys
Yes, khlōros in Ancient Greek means "green". But, unlike many Chlorophonias, this species is characterized by the striking brown belly, yellow sides, chest and face in different shades of green, and the blue crown of the male!
In Colombia, it is found in the cloud forests of the western and central mountain ranges. We recommend you visiting Hacienda El Bosque in Caldas, or the Montezuma Lodge in Risaralda to know this bird.
Orange-breasted Fruiteater
Pipreola jucunda
All the birds of the genus Pipreola are beautiful. Their colors make them almost invisible in the middle of cloud forests full of humidity, lichens, and mosses. It is difficult to choose among them the most striking, but I think the Orange-breasted Fruiteater is one of the most beautiful you can see in the western Andes of Colombia.
The orange chest and black head of the male make him easy to recognize.
You will see it when you visit Anchicayá in the Valle del Cauca, the town of Mistrató and the Montezuma Lodge in Risaralda, or Las Tangaras bird reserve in Chocó.
Striolated Manakin
Machaeropterus striolatus
This bird looks like candy! The male has a bright red crown and contrasting white stripes on its reddish belly.
It is widely distributed in Colombia until 1700 m above sea level.
Scarlet Ibis
Eudocimus ruber
You will never know exactly what color this bird is, for some it is fuchsia, for others it is orange, for others it is deep pink and some even say it is red. The truth is a red-orange color, with a black beak in the reproductive state.
It is a very common bird in aquatic marine and sweet habitats. In Colombia you can find it all over the Caribbean and in all swampy regions, wetlands, and marshes below 600 m above sea level.
To see this bird in all its splendor and, in addition, in great numbers, we recommend visiting the Los Flamengos Flora and Fauna Sanctuary in La Guajira, or any of the reserves with lagoon habitats in the departments of Meta and Casanare.
Andean Cock-of-the-rock
Rupicola peruvianus
This bird needs no introduction. It is simply spectacular.
You can find a very large lek of this bird in the town of Jardin, in the department of Antioquia, in the Natural Reserve Jardin de Rocas.
Blue Cotinga
Cotinga nattererii
The male is deep sky blue with a dark purple throat and belly and mostly black wings.
It is distributed throughout the Pacific region of Colombia, and you can see it and even photograph it in the department of Valle del Cauca in Anchicayá and Alto Potedó. Also, in the department of Chocó, in the municipalities of Bahía Solano and in the National Natural Park Ensenada de Utria.
Spangled Cotinga
Cotinga cayana
The male is deep sky blue with a bright purple throat and mostly black wings. The plumage is spectacular with good light, but otherwise may appear gray.
It is distributed throughout the Colombian Orinoco and Amazon regions. To observe this bird, we recommend you visit the Natural Reserve La Isla Escondida in the department of Putumayo, the city of Mitú and surroundings in the department of Vaupés and Puerto Nariño and Tarapoto Lakes in the department of Amazonas.
Paradise Tanager
Tangara chilensis
This is possibly the most colorful tanager of all. Its head is bright green and contrasts with the red, black and blue body, the latter in different shades.
If you like tanagers, we have a post for you covering the Top 7 Most Colorful Tanagers of Colombia and Where to Find Them.
The Paradise Tanager can be seen in the departments of Meta, Putumayo, Caquetá, Amazonas and Vaupés. We recommend you visit the town of Restrepo, in Meta department, stay at Rancho Camaná and visit the forests around, you will find not only this bird but many of the mentioned above! It is just a 20-minute drive from the Villavicencio airport.
If you want to know more about Colombian nature tours follow us, write us comments, or just contact us.
---
References
The Internet Bird Collection IBC
The Macaulay Library
---
About the author
Sara Colmenares
Current director of Sula. Doctor in Biological Sciences. Her main interests are to explore and understand the organism – environment interactions, taking advantage of emerging knowledge for the management and conservation of species and ecosystem services. She is currently working as a consultant in functional ecology, ecosystem services and conservation projects in Colombia related to ecotourism and birdwatching.