Are there anacondas in Colombia? Yes! The Anaconda, this giant reptile that is part of the imaginary terror of children and adults, and that have been present, not only in your bad dreams but also in Hollywood and Disney movies live in Colombia. Find here when and where to go to see the Anaconda in Colombia.
The Anaconda
The famous anaconda is a type of constrictor snake of the same lineage as the boas, and it is the heaviest of them all. It is endemic to the rivers of the South American tropics, usually found in the Amazon and Orinoco basins.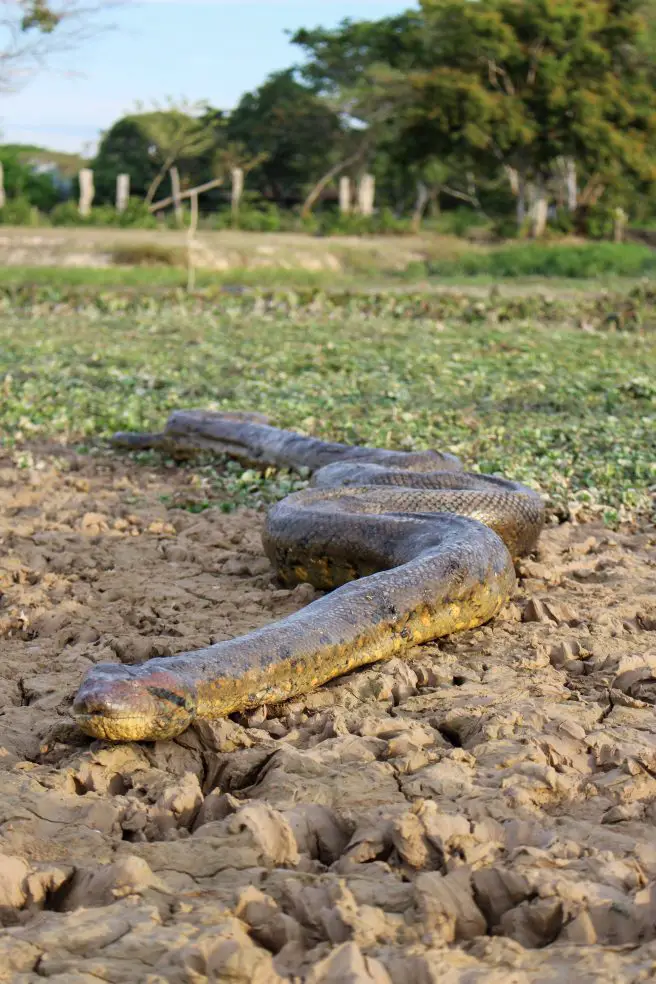 Although the name is applied to a group of snakes, it is often used to refer to the common or green anaconda (Eunectes murinus), which is the largest snake in the world by weight, and the second-longest, after the reticulated python (Malayopython reticulatus), an endangered Asian snake.
One of the differential characteristics of the Anaconda, when compared to other snakes, is that they have 3 thickened scales on each side of its snout. Additionally, Anacondas find comfort on trees or still water ponds with fast currents, taking advantage of their agile swimming abilities.
13 Facts About Anacondas that you Don't Want to Miss
Anacondas eyes and nostrils are elevated since they usually remain submerged underwater for long periods of time.
Their olfactory receptors are located on the tongue.
The mating season is usually between April and May. Females send signals and wait patiently until males arrive at her location. The number of males that may arrive could add up to 12 individuals which wrap themselves around the female creating the well-known "breeding balls".
The gestation period takes 6 to 7 months, and the offsprings are born 60 to 70 cms long. The average number of hatchlings per female is 30 per mating season.
Anaconda hatchlings can survive without the mother's protection, as they are born with innate hunting and self-defense instincts.
Being carnivorous, their diet is very varied.
Anacondas usually silently wait for their prey submerged on the river without being detected.
Anacondas are venomless snakes. Therefore, their mode of hunting is constriction, which is necessary to suffocate the prey before swallowing it.
The largest anaconda ever officially recorded was a female hunted in Brazil in 1960, which measured 8.45 m in length, and weighing 227 kg.
Anacondas swallow their prey completely thanks to elastic ligaments and joints in their snout.
They have two rows of teeth pointing backward, which move independently in order to bite their prey.
Digestion time can take more than 7 days depending on the size of the prey.
After eating a big pray Anacondas may have no need to eat for weeks or even months.
Myths and Legends Around the Anaconda
The native communities of the Amazon region of Colombia believe that a great ancestral anaconda penetrated the universe/house, through the water gate and ascended the Negro and Vaupés rivers carrying within its body the ancestors of all mankind.
Throughout his journey ancestors turned into humans. This great anaconda finally reached the "Ipanore waterfall", formed by the flow of the Jirijirimo River, which means "the bed of the anaconda" in native dialects.
Anacondas are Endangered Species
Although there is no information on the conservation status of Anacondas, there are threats that are greatly reducing their populations. Threats to anacondas are:
Hunting, to keep them as pets or for their skin used as decoration. It is also hunted for religious and medicinal reasons., since it is believed to cure rheumatism and asthma, among other diseases.
Fear, derived from people's belief that anacondas are dangerous.
Habitat loss.
Contamination.
Where to Find Anacondas in South America
Anacondas are widely distributed in South America and can be found in:
Colombia
Brazil
Venezuela
Ecuador
Bolivia
Peru
Guyana
French Guyana
Trinidad and Tobago
Paraguay
How Many Species of Anacondas are?
Among the genera Eunectes, there are three more species besides the famous Green Anaconda (Eunectes murinus), which is the species with the greatest presence in the South American continent, especially in Venezuela, Brazil, and Colombia. The other anaconda species are:
Bolivian Anaconda (Eunectes beniensis)
It is the most recently defined species, inhabiting Bolivia. In particular, in the provinces of Beni and Pando.
Yellow Anaconda (Eunectes notaues)
Also known as Paraguaya, it is the smallest species of anacondas. They are usually present in the Paraguay river, also, they are distributed from the Pantanal region in Bolivia, the west of Brazil to the northeast of Argentina.
Dark-spotted Anaconda (Eunectes deschauenseei)
Also known as Schauenseee, due to the expansion of agriculture in the savannahs where it lives, this species is the most endangered.
Where to See Anacondas in Colombia
The geographical distribution of the Anaconda in Colombia is recorded in the following departments: Putumayo, Amazonas, Vaupés, Guaviare, Guainía, Meta, Vichada, and Casanare.
Despite the wide range of Anacondas in Colombia, it is only possible to observe them safely and ecologically by protecting their natural environment.
Amazonas
Amacayacu National Natural Park, Puerto Nariño, Amazonas
Located southeast of Colombia, this protected area is responsible for the protection and conservation of all local fauna and flora. It is currently closed but indigenous communities of Mocagua and San Martin offer guided ecotourism activities in the area.
Where to stay
Leticia, Amazonas
It is the capital of the department of Amazonas, and an amazing place to experience living in a city in the middle of the jungle. Tours that include visiting native communities are available.
Where to stay
Vaupes
Visit our entry Jirijirimo Waterfall and the Anaconda Trail in Vaupes, Amazon Region, Colombia, to find more information.
Casanare
Casanare is another beautiful department, located in the eastern plains, where you can find anacondas in Colombia.
Hato La Aurora
Hato La Aurora offers the best safari experience in Colombia. Besides anaconda, you will find capybaras, white-tailed deer, spectacled caimans, wild horses, cattle, iguanas, and birds. Jaguars and cougars also inhabit the reserve, but they are difficult to spot.
Where to stay
The reserve has an eco-lodge called Juan Solito that offers accommodation in rooms, cabins, or hammocks.
Best Time to Visit the Anacondas in Colombia
In the Amazon region, it usually rains every month; the least rainy month is July. In Vaupés, the best season is the dry season which goes from November to April. Finally, in Casanare, the best season is also the dry season, which is from November to April.
Recommendations for your visit
Take yellow fever and tetanus vaccine shots before arrival.
Mosquito repellent is highly recommended.
Bring rubber boots, a raincoat, long-sleeved shirts, sunscreen.
Leave no trace.
Carry valid identity documents and health insurance.
If you take specific medications, take them with you.
If you want to plan your trip to Colombia do not hesitate to contact us, visit our Plan your trip page!
References
National Geographic
Panda.org NGO
Rainforest-alliance.org NGO
About the authors
Luisa Martin
Engineer, world traveler, amateur photographer, traveling blogger, and foody.