Guaviare is one of the least populated departments of Colombia, and one of the most pristine nature destinations in the country.  
Additionally, this department is located in the Colombian Amazon region, although part of its territory is also in the Orinoquia. Its capital is San José del Guaviare. 
Brief history of Guaviare
In the past, the colonization of Guaviare was mainly due to the enormous natural riches of its soil and the exploitation derived from these.
People came there to cultivate balata and rubber. Moreover, trade of wild animal skins, native plants and ornamental fish was also common.
Finally, the illicit cultivation of coca attracted many people, bringing also war and chaos to the region.
Today, tourism is opening as a new possibility for the economic development of the region, and it works as a good strategy for the protection and conservation of natural and archaeological areas.
Weather and Landscape
The dry season happens from December to February, and the rainy season during the rest of the year (especially April-July and October-November). Annual rainfall ranges from 2,000 to 3,500 mm. The temperature during the day reaches 25° to 30 °C, dropping at night to 12 °C between July and August.
Its soils are bathed by numerous rivers and a network of streams, divided mainly into two basins: Orinoco River Basin and Amazon River Basin.
Tourism in Guaviare 
Tourism is making its way in this destination dedicated to adventure and sustainability. It is an opportunity for sustainable development in he region. The natural environments for swimming, the sunsets, and its ecosystems make it a unique destination.
Archaeological places, and the fauna and flora that make up an abundant biodiversity, are the greatest attraction of Guaviare.
The Most Featured Destinations in Guaviare 
Serrania de La Lindosa and Cerro Azul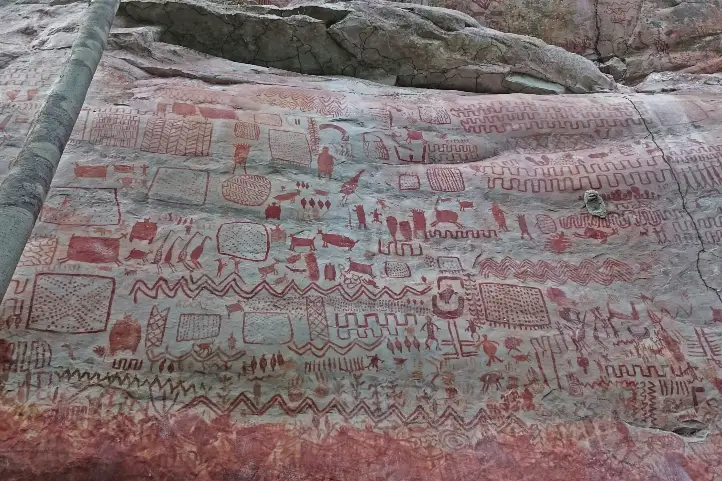 This place is one of the eight archaeological zones declared as a protected area by the Ministry of Culture of Colombia.
Here you will find the famous cave paintings, among others those of the Guayabero River and the Caño Dorado, with vivid colors. In the Cerro Azul in the Serranía La Lindosa, you can observe paintings that are twelve thousand years old.
The summit of Cerro Azul can be reached by a medium level hike of approximately 40 minutes. In Cerro Azul, there are a series of cave paintings painted with reddish pigment by indigenous people who inhabited the La Lindosa mountain range 7,250 years ago.
It is a two-hundred-meter-high peak to explore and walk. During the walk you can find giant trees and native species of flora and fauna. From the top you can see numerous streams of crystalline water and the jungle.
Raudal of the Guayabero
This spectacular spot is one hour by river, and one hour and thirty minutes by land, from San José del Guaviare.
The Guayabero River, before its encounter with the Ariari, is framed in a canyon formed by walls of rocks of Pre-Cambrian origin.
From there, a current is unleashed that reaches half a kilometer in length. Although it is navigable throughout the year, the summer season is the best time to cross it.
Throughout the tour you can see the gray freshwater dolphin or Tonina (Sotalia fluviatilis), as it is called by the inhabitants of the region.
Natural Bridges
These natural bridges are high and have been shaped and polished by water over time. They stand on a ravine to which it is possible to descend with certified guides.
The City of Stone
The Stone City of San Jose, is an enigmatic place that consists of ancestral rocks distributed with an impressive and mysterious symmetry.
In the company of guides, you can tour this site that has labyrinths, caves, and monoliths with very old petroglyphs. A special place for hiking and caving.
Natural Baths of Agua Bonita, Villa Luz and Tranquilandia.
They are located only five miles from the city, in Caño Sabana. The ancient rock formations form pools of crystalline waters of different colors. The rich plant and mineral environment is the one that colors these waters, so it is very similar to the rainbow river in La Macarena. You can go there and enjoy a good swim and landscape.
Puerta de Orión
Orion's Gate is a rock formation emblematic of the city, found 9 kilometers from San José del Guaviare. It is twelve meters high and 20 meters wide. It has two natural holes, one on top of the other.
To get to Puerta de Orión you must pass through cavities and cornices that make it an enigmatic scenery.
The particularity of this natural wonder is that in the summer solstice you can observe Orion's Belt through the upper window, creating a unique spectacle.
Sport fishing and Kayaking at Laguna Negra 
Laguna Negra is located 11 kilometers from San José del Guaviare. The black color that the water projects is because at the bottom there are decomposed leaves from the surrounding forests.
Its name is due to the dark tone of its waters seen from the air. Once on land, you can see a scenario of crystalline water, according to experts, because of the thick vegetation that surrounds it.
This natural reserve, 11 km from San José del Guaviare, constitutes the ideal scenario for the practice of artisan fishing and snorkel. You can find "cachazas" and "payaras".
Kayaking and sailing, among other practices, are part of the new offer.
Because it is a complete planetary treasure, in 2018 it has been declared a mixed heritage of humanity.
It is located in the departments of Caquetá and Guaviare, and preserves the largest sample of rock art in the world.
In Chiribiquete there are approximately 70,000 paintings and 50 panels of an average height of 7 meters.
These have served to distinguish a cultural tradition of roots, apparently very old, of the Paleo-Indian. Therefore, they have been associated with groups of hunter-gatherers of the Tropical Rainforest and semi-dry enclaves of the Guianas and the Amazon.
Other Attractions
Rural and community tourism: Finca Chontaduro, Finca Diamante, replacement of coca for fruit.
The "Flor del Guaviare" (Paepalanthus formosus Moldenke) is one of the emblems of the department.
Thermal waters, unique in the Orinoco and Amazon;
The Inírida River;
The natural National Parks of Chiribiquete and Nukak; and
An endless number of lakes and lagoons where pink dolphins and fishing abound.
How to get to Guaviare
The trip Bogotá – Guaviare by plane takes about 1.20 hour. The tourist sites are easily accessible by 4X4 vehicles. The capital, San José del Guaviare, has become a center of operation with a wide range of lodging facilities: three stars hotels, hostels, and camping.
Where to stay in San José del Guaviare
We recomend you the following hotels in San José del Guaviare:
Hotel Quinto Nivel
Hotel Aeropuerto
If you want to know more about the most incredible natural destinations in Colombia, plan your trip with us!
---
References
---
About the author
Sara Colmenares
Current director of Sula. Doctor in Biological Sciences. Her main interests are to explore and understand the organism – environment interactions, taking advantage of emerging knowledge for the management and conservation of species and ecosystem services. She is currently working as a consultant in functional ecology, ecosystem services and conservation projects in Colombia related to ecotourism and birdwatching.