Have you heard about community-based ecotourism? If not, here we will tell you about it. Community-based ecotourism aims at harmony between nature conservation and people, where ecotourism activities provide greater benefits to local communities.
For more than 10 years community-based ecotourism in Colombia exists, being promoted by the Colombian government and organizations such as the Ministry of Commerce, Industry and Tourism, National Parks of Colombia, USAID, and AUDUBON.
This whole process of tourism development hand in hand with local communities involves training, organizational strengthening, promotion, and marketing of destinations.
Over time, difficulties, lessons learned, and developing a process that involves a community-based private organization and public institutions have been revealed and overcome.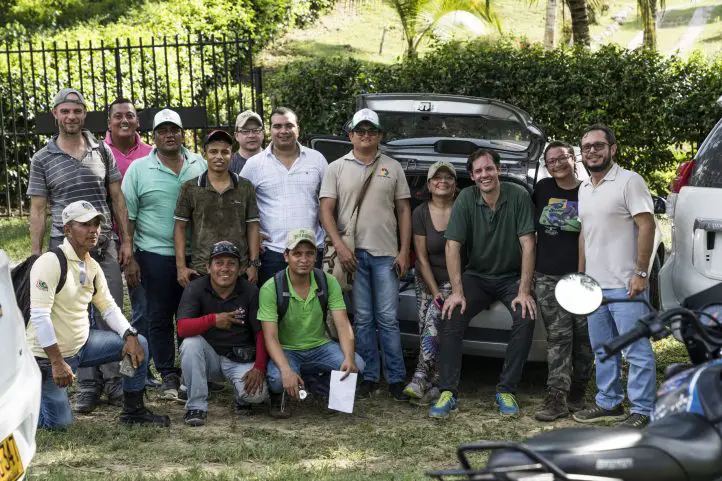 The Importance of Community-based Ecotourism
These are the great advantages of community-based tourism:
Tourism generates opportunities outside the big cities,
Helps preservation of the cultural and natural heritage of rural communities, indigenous peoples, and many other historically marginalized populations around the world.
For many rural communities around the world, tourism is a major generator of employment and opportunity, especially for women and youth.
In some places, ecotourism is one of the few viable economic and legal activities.
Tourism also enables rural communities to celebrate their unique cultural heritage and traditions.
Community-based ecotourismis a vital sector for safeguarding habitats and endangered species.
Economic income goes directly to the native lodges, to the local transporter, to the people who carry out daily activities, such as traditional cooking workshops, or traditional fishing activities, etc.
Communities are transformed by learning to do responsible, differentiated, and environmentally friendly tourism, and they are more and more convinced every day of having beautiful territories.
From your side, you are contributing to cultural or wildlife conservation programs, such as sea turtles, whales, birds, or pink dolphins.
The High Impact of the Pandemic
2020 has been a very hard year for this type of tourism. Many families dedicated to this business were ruined. Some communities are able to survive because they can return to their old trades such as agriculture and fishing.
However, many of them are eagerly awaiting the opportunity to reopen their doors to travelers. It depends not only on them but also on new challenges such as the implementation of biosecurity protocols on their part.
Communities within the Protected Areas of Colombia
In Colombia, many of the protected areas have communities within them or in their areas of influence, i.e., border zones. For example, Afro-descendant communities in Utria national park in the Pacific, or the indigenous communities living in the Sierra Nevada de Santa Marta national park in the Caribbean.
These local communities have become valuable allies for the conservation of natural values in parks, reserves, and sanctuaries.
At the same time, the communities represent cultural values that in many cases are also object of conservation in the protected areas.
Who is involved, and what they do?
Entire families and young people establish community associations and are trained to provide eco-tourism services with the support of the Colombian National Parks System, or by foundations such as USAID or AUDUBON Society.
Thus, some learn about the natural values of the protected area to provide environmental interpreter services, others specialize as ecotourism guides, some improve their knowledge of typical gastronomy, and others explore handicraft production techniques.
Moreover, many of them are trained in the application of clean technologies that they will later use for the sustainable management of all ecotourism activities.
In recent years, the most successful processes have been the Colombian Birding Trails designed in the Caribbean and the Andean regions, where Audubon Society developed hand in hand with the local communities important birding trails around Colombia.
Ongoing projects are the Riqueza Natural Award, where local people, technology, and innovation were the main components to design new nature tourism offers in Colombia. Find out more about these destinations in our entry The Top Post-Covid-19 Destinations for Conservation Lovers in Colombia.
Community-based Ecotourism in Colombian National Parks
Today there are seven protected areas of the Colombian National Parks System that have the active participation of community organizations that offer their services to tourists. These areas have very diverse natural environments and a great variety of cultural manifestations:
All of them offer several different services, such as multi-day packages to explore the region. You can book directly with them, or with our help. In general, the main objective is increasing sales of community products. In SULA, we help them, and you, making reservations more efficient.
Other Community-based Ecotourism Destinations in Colombia
Of the many beautiful places that Colombia has, we recommend:
Chocó, a unique place with indigenous and afro traditions, as well as a huge biodiversity richness. The Chocó municipalities of Nuquí, Bahía Solano, Capurganá, and Sapzurro are developing this kind of tourism.
The islands of San Andres, Providencia, and Santa Catalina, with its Raizal community.
In Valledupar with the communities of Pueblo Viejo, in the foothills of the Sierra Nevada de Santa Marta.
La Guajira with groups of Wayuu women, who develop their activities within their tourist ranches.
Birding trails such as:

the Central Andes Birding Trail, and
the Southwestern Andes Birding Trail.

San Jose del Guaviare, with Econare, a local association of community-based tourism in charge of preserving the Amazon pink dolphins.
Of course, there are many more places! If you want to plan your trip to Colombia do not hesitate to contact us, visit our Plan your trip page!
References
MinCIT
Procolombia.co
Radio Nacional
About the author
Sara Colmenares
The current director of Sula. Doctor in Biological Sciences. Her main interests are to explore and understand the organism–environment interactions, taking advantage of emerging knowledge for the management and conservation of species and ecosystem services. She is currently working as a consultant in functional ecology, ecosystem services, and conservation projects in Colombia related to ecotourism and birdwatching.