Tinigua National Natural Park is a stunning protected area of Colombia where the Andean, Orinoco and Amazonian ecosystems converge in this territory, which gives it a high biological diversity, and wonderful place for ecotourism.
Today, this place can be visited together or as an alternative destination for Caño Cristales, the famous rainbow river. In the park you can enjoy the beautiful landscapes and a huge variety of flora and fauna.
The following information will be useful during your visit to Tinigua NNP.
Discovering Tinigua National Natural Park
The Tinigua NNP is located in the department of Meta, in the jurisdiction of the municipalities of La Uribe and La Macarena, between the Duda and Guayabero rivers and has an area of 2018.75 km².
The rainforest constitutes 86% of the area of Tinigua NNP, extending over an area of 184,983 ha. Flooded forest makes up 14% of Tinigua NP's area, covering 30,184 ha along the Perdido, Duda, Guayabero and La Reserva rivers that comprise the protected area.
Furthermore, the topography of Tinigua NNP is undulating and smooth, with altitudes ranging between 200 and 500 meters above sea level. It is characterized by forests of very tall trees, with a canopy between 30 and 40 m.
The Biological Corridor of the Area
Tinigua is part of a biogeographic corridor that goes from the top of the eastern Andean mountain range to the Amazon basal zone. In other words, it is an altitudinal gradient that begins in the Andean paramo ecosystem, at more than 3500 meters above sea level, to the Amazon and Orinoco plains.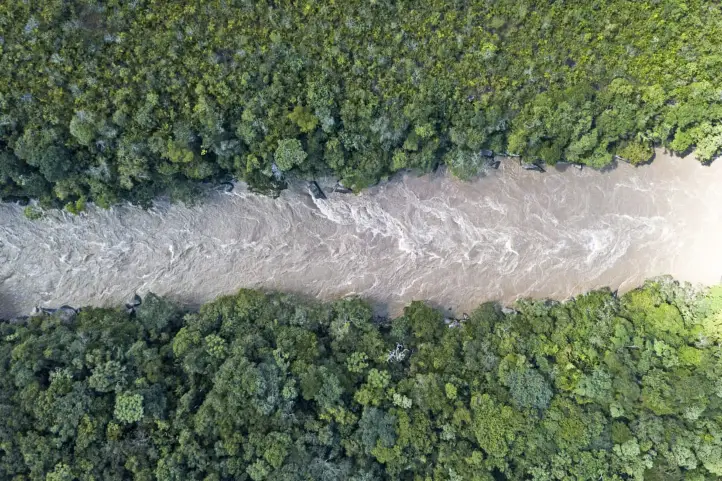 Thus, its important geographical position and connectivity made it part within the territorial planning figure of special environmental importance in the department of Meta, La Macarena Special Management Area (AMEM), which includes four (4) National Natural Parks: Sumapaz, Cordillera de los Picachos, Sierra de La Macarena and Tinigua, and three Integrated Management Districts. Additionally, it is part of the Duda River corridor in the valley of the Eastern Cordillera near the Serrania de la Macarena.
Such a corridor allows the flow of living beings and the provision of ecosystem services.
Hydric Importance
Tinigua National Natural Park is important for water because it conserves four (4) hydrographic basins: Guayabero River, Guaduas River, Perdido River and Duda River that allow the formation of the Guaviare River and the Orinoco macro basin.
Cultural Importance
Downstream along the Guayabero River is the Raudal Angostura I, a Historic-Cultural Zone, in which there are giant rocks of great scenic beauty, and other attractions such as petroglyphs of zoomorphic and anthromorphic figures, which are vestiges of the cultural legacy of indigenous inhabitants from the Tinigua and Guayabero ethnic groups in this territory.
According to studies, only one member of the Tinigua indigenous culture remains, named Sixto Muñoz Mauricio, who speaks the Tinigua language, preserves some of the customs and lives deep in the jungle of the Sierra de La Macarena.
How to get Tinigua National Natural Park
Bogotá-La Macarena
Take a 1-hour flight from El Dorado International Airport (BOG) Bogotá to La Macarena Airport (LMC) at La Macarena city with Satena airline.
From La Macarena you have to take a road trip of approximately 7 hours to Delicias- Centro Poblado San Juan del Losada- Centro Poblado el Rubí- Cabaña Aires del Perdido
Bogotá – San Vicente del Caguán –  Tinigua NNP Sector Losada – Perdido
Take a 1-hours flight from El Dorado International Airport (BOG) Bogotá to
Eduardo Falla Solano Airport (SVI) at San Vicente del Caguan city with satena airline. Once at the airport, take an approximately 4,5-hours ride to La Macarena.
From La Macarena you have to take a road trip of approximately 7 hours to Delicias- Centro Poblado San Juan del Losada- Centro Poblado el Rubí- Cabaña Aires del Perdido
Please note that  Satena airline only operates two flights a week, on Tuesdays and Saturdays.
What to do in Tinigua National Natural Park
Main activity at the park is hiking, but there are other complementary activities such as wildlife and flora observation, birdwatching and primate watching, geological observation, panoramic views, landscape contemplation, photography and filming.
Hiking  
Tinigua NNP has only authorized sector for hiking which is the Raudal Angosturas I. This tour can be done all year round, but you must keep in mind that during the winter season the Guayabero River may have restrictions due to weather conditions.
In this sector you can enjoy the Petroglyph Trail Angosturas I – La Macarena; located between the border of the National Natural Parks Sierra de la Macarena and Tinigua.
As well as it has a Low-Medium degree of difficulty, there you can observe cave paintings and petroglyphs, as well as observation of flora and wildlife. Please note that you must have authorization to enter this trail.
Birdwatching and Wildlife Tours
Tinigua NNP has a record of 441 bird species including 18 migratory birds and five southern migratory birds. Of the most representative birds that you can get to observe are:
Crax alector
Mitu salvini
Crax tomentosa
Ara macao
Ara ararauna
Ara militaris
Ara severa
Touit stictoptera
Neochen jubata
Coturnicops notata
Falco deiroleucus
Aburria aburri
Xiphocolaptes promeropirhynchus macarenae
Chlorospingus ophthalmicus macarenae
Tinamus tao
Pteroglossus castanotis
Ramphastos culminatus
Pionites melanocephala
Tinigua NNP has recorded 32 species of mammals, among which carnivores are the most representative specie with 9,  followed by primates with 7 species. So you can enjoy your stay in Tinigua NNP discovering species such as:
Lontra longicaudis
Panthera onca
Puma concolor
Lagothrix lagotricha
Ateles belzebuth
Tayassu pecari
Tayassu tajacu
Bradypus variegatus
Tapirus terrestris
Alouatta seniculus
Saimiri sciureus
Regarding the presence of amphibians, it has been established that there are 14 species and 63 species of reptiles; where we highlight the Caiman (Crocodylus intermedius), Morrocoy (Geochelone denticulata), Anaconda (Eunectes murinus), among others.
Where to stay in Tinigua National Natural Park
Tinigua National Natural Park does not currently offer accommodation for travelers, nonetheless you are able to stay in La Macarena. Our recommendation of hotels for you:
Tinigua Finca Recreacional y Ecoturistica.
Hotel la Fuente JN
Casa Hotel Real
Best time to visit Tinigua National Natural Park
It is recommended to visit the park during the 2 dry seasons, between the months of December and March, and between August and September. Keep in mind that Tinigua National Natural Park has an average temperature of 25º C (77º F).
Tinigua National Natural Park Entrance fees
Currently, Parques Nacionales Naturales de Colombia does not charge entrance fees for visitors to Tinigua National Park, Raudal Angosturas I Sector in the Municipality of La Macarena.
What to consider before visiting Tinigua National Natural Park
You must carry plastic bags for the disposal of NON BIODEGRADABLE waste (bottles, batteries, cans, etc.).
It is recommended that you bring: backpack, light cotton clothing, sunscreen and hat, biodegradable soap, rubber boots.
Domestic animals are prohibited.
Don't use of flash when taking photographs.
Use binoculars to watch animals' behavior.
Bring along valid identification documents and health insurance.
It is recommended to be vaccinated against yellow fever and tetanus.
If you take specific medications, take them with you a personal first aid kit.
Some prohibitions
Feeding, bothering or hunting animals, alcoholic drinks and drugs, throwing cigarette butts, burning garbage, felling, and capturing wildlife.
References
Parques Nacionales
Colparques
About the authors
Sara Colmenares
The current director of Sula. Doctor in Biological Sciences. Her main interests are to explore and understand the organism-environment interactions, taking advantage of emerging knowledge for the management and conservation of species and ecosystem services. She is currently working as a consultant in functional ecology, ecosystem services, and conservation projects in Colombia related to ecotourism and birdwatching.
Luisa Martin
Engineer, world traveler, amateur photographer, traveling blogger, and foody.