Los Flamencos Fauna and Flora Sanctuary is an important reserve with marshes, lagoons, and an important fragment of tropical dry forest created to protect a large population of American flamingos (Phoenicopterus ruber). This reserve is also the habitat of 185 other bird species, 80% of which are migratory.
This Sanctuary is located in the town of Camarones, very close to the city of Riohacha in La Guajira. It is part of the Northern Caribbean Birding Trail of Colombia.
Los Flamencos has shallow lagoons that fill up when the rains come and evaporate during the dry season. When the water evaporates, the marine salt concentrates, facilitating the growth of brine shrimp (Artemia sp.), which attracts American flamingos!
The local community consists mainly of Wayuu Indians. They are known for their colorful bags (mochilas), and handicrafts.
Discovering Los Flamencos Fauna and Flora Sanctuary
Los Flamencos Fauna and Flora Sanctuary is formed by four coastal swamps, with an area of 768. 2 square kilometers. It was declared Colombia's National and Cultural Patrimony in 1992, being one of the smallest protected areas in the country, but one of the richest in a variety of resident and migratory birds. Moreover, it is home to algae, mollusks, crustaceans, and fish.
Temperature varies from 26 to 33 degrees celsius at its highest point.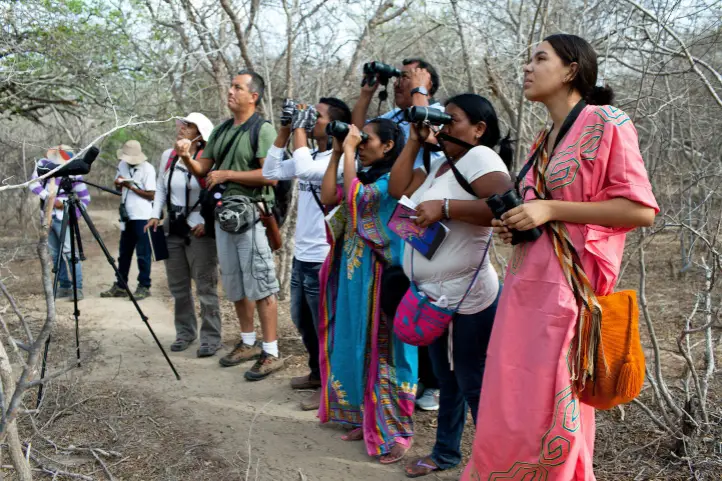 Los Flamencos Sanctuary offers diverse cultural and gastronomic options, especially, from local Wayuu. Worth noticing is the ancestral dances and "make-up" worn by Wayuu people from the nearby rancherias tribes.
In the case of Los Flamencos Flamingo Fauna and Flora Sanctuary, they offer a year of work to a representative of each of the tribes present in the sector. There are 7 tribes and two of them are selected annually to provide information and orientation to the sanctuary's visitors with the support of a representative from the national natural parks in the city of Bogota.
Food delicacies available include different types of fish, seafood, and goat meat, prepared with the region's ancestral recipes.
The American Flamingo
These beautiful birds with pink feathers, long legs, and slender long- curved necks, are by far the most interesting attraction in this place. In fact, the park is named after these birds.
Flamingos are monogamous birds that lay only one egg per year. Their nests are mud mounds with a height of approximately 30 to 55 cm. Its hatchlings are born with white or grey feathers and they must wait 3 years for their feathers to turn pink.
Note that flamencos are easier to watch during the rainy season.
Why are Flamingos Pink?
Remember the shrimps we mentioned above? Flamingos get their pink color from the consumption of those brine shrimps, which are rich in beta carotene, a red-orange pigment.
Archaeological ruins
Other than flamingos, this place hosts archaeological ruins that confirm the presence of the "Guanebucans", pre-colonial fishing and farming communities in the area that belong to the Arawak family.
These pre-colonial communities were forced to immigrate to the high areas in the Sierra Nevada, approximately 100 km west, after Spanish incursions.
How to get to Los Flamencos Fauna and Flora Sanctuary
From Bogotá
Take a 1.5 hours flight from Bogotá to Almirante Padilla International Airport (RCH) at Riohacha city. From Riohacha take an approximately 40 minutes ride to Camarones hamlet (20 km).
Once at Camarones hamlet you should walk along a trail for 3.5 km to the administrative center of the Park: Cabaña Guanebucane.
From Santa Marta
Take an approximately 2,5 hours ride to Camarones (165 km). From Camarones walk along 3.5 km trail to the administrative center of the Ministry of the Environment, Cabaña Guanebucane.
What to do in Los Flamencos Fauna and Flora Sanctuary
Hiking
Los Flamencos Fauna and Flora Sanctuary have a 2-hour trail through the Navio Quebrado lagoon. Then, hop on a water canoe and adventure yourself. During the tour enjoy the wonderful Caribbean Sea and the snow peaks of Colón and Bolivar, both part of the Sierra Nevada de Santa Marta.
Wildlife Observation
At Los Flamencos Sanctuary it is possible to find mixt of fresh and saltwater, which makes the whole ecosystem very diverse. Unique habitats such as tropical dry forest and tropical very dry forest that host wonderful species are present.
The sanctuary is characterized as an important migratory stop for turtles such as the leatherback sea turtle (Dermochelys coriacea), the loggerhead sea turtle (Caretta caretta), the hawksbill sea turtle (Eretmochelys imbricata), and the green sea turtle (Chelonia mydas)
At the time of rising tides, the shrimps begin their reproductive migration process.
In the rainy season, it is possible to appreciate the foliage of the beautiful yellow flower of the Puy (Handroanthus billbergii). Additionally, the place is host to the most diverse ecosystem of plants, such as the black mangrove (Avicennia germinans), the Dulce (Conocarpus erectus), the white mangrove (Laguncularia racemosa), and, to a lesser extent, the red mangrove (Rhizophora mangle).
Birdwatching
It is possible to appreciate the pink flamingos (Phoenicopterus ruber ruber) resident in the sanctuary. However, there are plenty of birds you can see around. Ibis, gulls, terns, and many migratory shorebirds are to be found at Los Flamencos.
In the forest, you will find specialties restricted to NE Colombia and NW Venezuela, including Rufous-vented Chachalaca, Bare-eyed Pigeon, Buffy Hummingbird, Russet-throated Puffbird, Chestnut Piculet, White-whiskered Spinetail, Slender-billed Inezia, Orinocan Saltator, Pileated Finch, Tocuyo Sparrow, Crested Bobwhite, Blue-crowned Parakeet, Brown-throated Parakeet, Green-rumped Parrotlet, Black-crested Antshrike, White-fringed Antwren and Northern Scrub-Flycatcher, and the Vermillion Cardinal.
The Vermilion Cardinal is called "Rey Guajiro" ("King of the Guajira") by the Wayuu people, and it is very important for their culture and traditions.
Where to stay in Los Flamencos Fauna and Flora Sanctuary
Camarones town offers different types of accommodation. Our suggested choices are:
Playa Samara Hostel, 14 kilometers away from the Sanctuary entrance.
Mar Azul-Playa Hotel, 12 kilometers away from the Sanctuary entrance.
You can also stay in Riohacha. Our suggested choice is Hotel Taroa.
Best time to visit Los Flamencos Sanctuary
The dry season is around December to late April and from July to late August and is the most convenient. But the dates when you will see the largest amount of pink flamingos is from October to late November.
Entrance fees
The entrance fee to The Flamencos Fauna and Flora Sanctuary is free. However, since it is located inside an indigenous territory, they ask you for a little representative payment.
What to consider before visiting Los Flamencos Sanctuary
Return ALL garbage you generate during the tour with you and dispose of it at the waste disposal sites.
Entrance for children under 5 years old, pregnant women, people with heart or respiratory conditions are not recommended.
Any guided tours must be done with authorized and certified tourist guides.
Always travel along the paths and trails marked by local authorities.
Be respectful of the Wayuu culture, its territories, and nature.
Consider wearing personal protective items (sun blocker, sunglasses, towel, insect repellent, and hat).
Carry reusable water bottles.
Bring along enough water for the journey (at least 1.5 liters).
Do not use flash when taking photographs.
Use of binoculars to admire animal behavior and beauty in their natural habitat.
Carry valid identity documents and health insurance.
It is recommended to be vaccinated against yellow fever and tetanus.
If you take specific medications, take them with you. It's never enough to carry a personal medicine kit.
Some prohibitions
Feeding, bothering or hunting animals, alcoholic drinks and drugs, littering, burning garbage, felling, and capturing wildlife.
References
National Parks Website
Colombia Travel Website
About the authors
Luisa Martin
Engineer, world traveler, amateur photographer, traveling blogger, and foody.
Sara Colmenares
The current director of Sula. Doctor in Biological Sciences. Her main interests are to explore and understand the organism–environment interactions, taking advantage of emerging knowledge for the management and conservation of species and ecosystem services. She is currently working as a consultant in functional ecology, ecosystem services, and conservation projects in Colombia related to ecotourism and birdwatching.