In our entry Complete Guide to the Best Eco lodges in Colombia, we tell you about the best eco-lodges with specialized services in Colombia, focused on sustainable development through the conservation of biodiversity, the support to local communities, among other things. Here I will tell you which are the best Birding Lodges in Colombia.
The birding experience is enriched by facilities and services that help to generate an inimitable experience. Just in central and south America there are wonderful examples of this such as the Chan Chich Lodge in Belize, Sacha Lodge in Ecuador, Cristalino Lodge in Brazil, or Yacutinga Lodge in Argentina.
Facilities for bird watching, as well as the comfort, gain a lot of importance when it comes to satisfy a client. Facilities such as:
Rooms with private bathrooms.
Hot water and comfortable beds.
No t.v., no radio, no noise.
Wi-fi and mobile connection.
Restaurant service with flexible hours.
Specialized services as bird libraries.
Local guides with complete knowledge of the local bird life.
Complete bird lists of the place.
Also, the infrastructure is also very important. It is necessary the presence of observation towers, canopy roads, and well demarcated trails with good viewing angles and easy access. This is what defines a specialized lodge for birders.
There are many options throughout Colombia for birding tourism, mainly in nature reserves. The majority of nature reserves have simpler infrastructure, most of them are conditioned for birding tourism, and some of them can offer reasonable good lodging and food service. Examples of these are: Río Ñambí Nature Reserve, La Planada Nature Reserve, Isla Escondida Nature Reserve, or Montezuma Lodge among the most known and remarkable.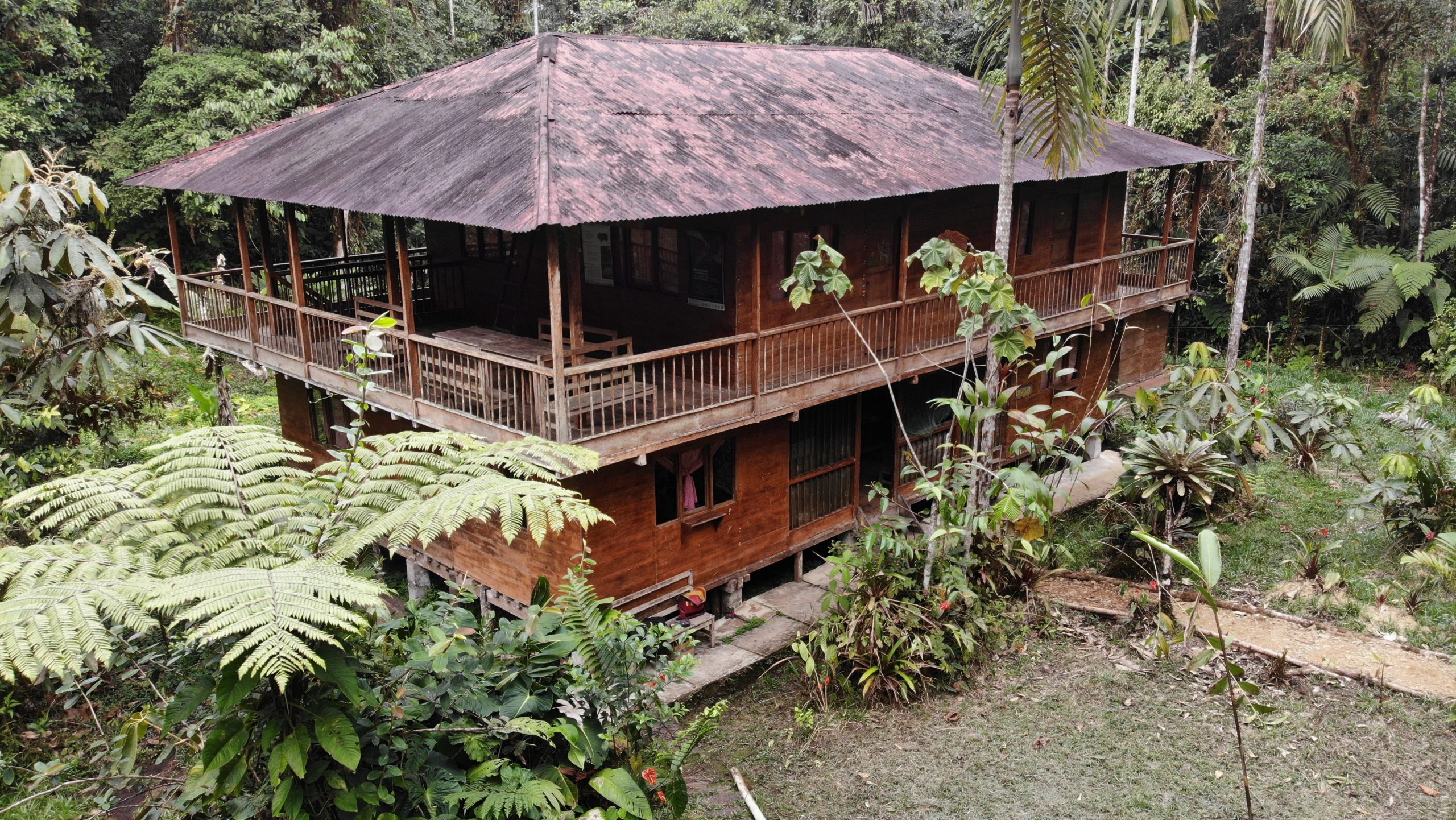 Here there are some of the most outstanding lodges in Colombia specialized as birding lodges, capable of offering a wide range of facilities and services required for all birders and bird watchers.
Birding Lodges of the
Coffee Region and Central Andes

of Colombia
Caldas
Highlights 
+40 years conserving nature.

+260 bird species registered. 

Facilities for bird photography.

Accommodation in the middle of nature.

Private and safe trails.

Home service with local people.

Reinvestment in conservation.

Strategic location in Caldas. 
If you want to know more about this birdlodge read our entry: The Nicest Bird-lodge of Colombia: Tinamu Birding Nature Reserve.
Lodge features
+3 km of private and safe trails

. 

Bird library for consultation.

Space for workshops with audiovisual equipment.

Giant screen for reviewing photographic and video archives.

Hummingbird garden.

Bird feeders.

Hides for photography.

Lake only for birds.  
Things to do
Gastronomy
Restaurant service starts at 5.30 am. Additionally, it offers typical dishes of the region, and also vegetarian or international dishes. 
Accommodation
Ten spacious rooms with capacity for 21 people in individual accommodation (1 person per bed) and 33 people in shared accommodation (16 double beds and 5 single beds). Each room has a private bathroom and hot water.  
Costs
Rates start at USD 90 per person, per night, based on occupancy.  
Location and weather
The reserve is in the middle of the Coffee Region in the department of Caldas. Protects a tropical rainforest of 11 ha/27 acres. It is located between 1,200 and 1,300 meters / 3950 and 4265 ft above sea level with a warm climate of 25°C/77°F.  
How to get there
The Tinamu hotel is located in the San Peregrino village, 30 minutes from the city of Manizales. It is only possible to arrive by land transport. The lodge offers airport – Tinamu – airport transportation service (additional). 
Birding Lodges of the Western Andes of Colombia
Valle del Cauca
Highlights 
Modern infrastructure developed to make the most of birding.

With high and wide glass windows.

It is in a region of great diversity of birds and near to other highly interesting places for bird watching.

+150 species of birds registered in the lodge. 
Lodge features
There are 8ha/20 acres of Andean forest and gardens.

Large spaces in an area of 836 m2 / 9,000 ft2.

Several social areas to relax.

Wood burning oven for pizza parties.

Organic farm with vegetables, fruits, and coffee.

Walking trails through the forest, streams and gardens. 

Rare plant collection and gardens.  
Things to do
Take s

pecialized birding tour around Valle del Cauca, which ranges from the pacific coast, the Chocó forest and the western Andean mountain range ecosystems. 

Visiting around for c

ultural tours, city tours, salsa tours, river tours and more.

Take c

ustom botanical and/or horticultural tours.

Go for r

elaxation.

Enjoy e

cological walks.  
Gastronomy
Kitchen starts early for birders. Farm to table organic food. Custom made cuisine. 
Accommodation
8 suites with gorgeous views, luxurious king-size beds, and private balconies. Each room has artwork from local artists and photographers. Additionally, there are two extra rooms, smaller, but with the same quality standards. Each room has a private bathroom and hot water.  
Costs
Rates start at USD 170 per person, per night, based on occupancy and season.  
Location and weather
The lodge is Located in the Chocó bio – region of Colombia. It is within the cloud forests of the Andean western mountain range, at 1600 meters/5600 feet above sea level, with a temperate to cold climate of 21° C/73°F, on average.  
How to get there
Araucana lodge is located 40-minute drive from Cali on the way to Bitaco and Lomitas, in Dagua municipality of the Department of Valle Del Cauca. It is only possible to arrive by land transport.  
Highlights
17 species of hummingbirds and up to 30 species of colorful tanagers arrive to the house's gardens and feeders.

The main attraction is the presence of five endemic and near endemic species: Multicolored tanager (Chlorochrysa nitidissima).
Some species of the Chocó can be observed from time to time.
Bird Highlights: Purplish-mantled Tanager (Iridosornis porphyrocephalus), Chestnut Wood Quail (Odontophorus hyperythrus), Cloud-forest Pygmy Owl (Glaucidium nubicola), and the Yellow-headed manakin (Chloropipo flavicapilla).
Additionally, the Crested quetzal (Pharomachrus antisianus) and the Golden-headed quetzal (Pharomachrus auriceps), Rufous-crested Tanager (Creurgops verticalis), Golden-naped Tanager (Tangara ruficervix), Saffron-crowned Tanager (Tangara xanthocephala), Red-headed Barbet (Eubucco bourcierii), Scaled Fruiteater (Ampelioides tschudii), Crimson Rumped Toucanet (Aulacorhynchus haematopygus) and Emerald Toucanet (Aulacorhynchus prasinus), Sickle-winged Guan (Chamaepetes goudotii), Chestnut-breasted Wren (Cyphorhinus thoracicus), Uniform Antshrike (Thamnophilus unicolor) can be observed relatively easy.
Lodge features
It is a two-floors house made with bricks and wooden details inside.

It has two fireplaces: one in the living room on the first floor, and the other in the lounge between the rooms on the second floor.

Covered terrace for photography.

Library specialized in birds and ecosystems of the region.

Atmosphere for small groups.
Things to do
Bird photography.

Specialized bird watching tour.

From the house to the main road, there is a 3 km private road, where you can do day and night walks for bird observation. (Check our Valle del Cauca tour)
Gastronomy
Homemade food, based on local gastronomy. Coffee.  
Accommodation
It has two double rooms, each with a double bed and full private bathroom. There are additional rooms, each with two bunk beds and a single bed and an adjacent full bathroom. There is a shared bathroom in the living room. Each room has a private bathroom and hot water.  
Costs
Rates start at USD 70 per person, per night, based on occupancy and season.  
Location and weather
The lodge is located within the forest reserve of the Bitaco river, which is a protected area in the upper part of the western Andean mountain range. Well preserved cloud forest. Elevation of 1500 meters/5500 ft above sea level. Moreover, the weather can be unpredictable during the rainy season (February to June) and there is a lot of cloud cover. However, during the summer luminous blue skies can be seen (June – August, December – February).
How to get there
The Minga eco-lodge is located 45 minutes from Cali and 60 minutes from the airport, in the municipality of la Cumbre, department of Valle del Cauca. It takes 40-minute drive from Cali on the way Bitaco and Lomitas road, in Dagua municipality. It is only possible to arrive by land transport.
Birding Lodges of the 
Eastern Andes of Colombia 
Cundinamarca
Highlights
Comfort surrounded by gardens, ecological trails and viewpoints designed for bird watching.

Design with advanced concepts of sustainability.

Highly efficient construction with very low environmental impact.

Bioclimatic design to minimize energy consumption

, with m

aterials that allow for a prolonged life of the construction without increasing the 

heat island effect

.

Drinking water and wastewater treatment plant.

Use of rainwater to minimize the use of fresh water. 

Intensive  reforestation with native and endangered species aimed to protect the fauna and the surrounding environment. 

+170 registered bird species. 
Lodge features
Boutique hotel & spa with exclusive villas.

There are lush gardens and ecological trails with terraces for bird photography throughout the year.

One-story buildings for the comfort of the elderly.

Environment of total privacy, exclusivity and security.

Spectacular view to the beautiful bucolic landscape.

Swimming pool.

Jacuzzi.

Densely wooded boulevard with tropical vegetation and a profusion of colors to attract birds. 
Things to do
Photographing birds from your room's balcony or from the hotel's terraces without having to move.

Birding tour in the native dry forest. 

Take r

omantic getaways. 

Go with your

friends or family for celebration of special dates, including accommodation, water circuit and relaxation massage.

Plan your b

usiness activities, executive meetings in boardroom or conference room format.

Plan your wedding celebrations and social events. 
Gastronomy
À la carte menu. 
Accommodation
The lodge has 12 modern, spacious rooms with balcony and private bathroom. Additionally, there are 10 private villas with 3 to 4 comfortable rooms, large living-dining room open to the deck, pool and gazebo. The villas have their, own water fountain and water treated, to high standards of care. Each room has a private bathroom and hot water.  
Costs
Rates start at USD 90 per person, per night, based on occupancy and season.  
Location and weather
Hotel located 4.5km from Bogotá, on the way La Mesa / Cundinamarca. It is located in the middle of remnants of tropical dry forest.  It is about 1200 meters/3900 feet above sea level, with a warm climate of 27°C/80°F, on average.  
How to get there
Gyrola birding hotel boutique & spa is located 2h drive from Bogotá via la mesa, in the department of Cundinamarca. It is only possible to arrive by land transport.  
Birding Lodges of the Northern Caribbean Birding Route of Colombia
Magdalena
Highlights
Sierra Nevada de Santa Marta snow cape is declared the "most irreplaceable site on earth". It is one of the places with the greatest record of endemic bird species in Colombia.
Read our post: Colombia's Prime Birding Destination: Sierra Nevada de Santa Marta, to know more about this Biosphere Reserve of Colombia.
The reserve protects 21 endemic bird species and 55 endemic bird subspecies.
The lodge is located within one of the most important biodiversity reserves in the world. The Sierra Nevada de Santa Marta Biosphere Reserve.
Protects the populations of 9 endemic amphibian species.
Is the most important private protected area in the tropics.
Biodiversity in the protected area includes the Santa Marta parakeet (Pyrrhura viridicata), the target conservation species of the reserve. Artificial nests have been installed over palms and trees to help their conservation since lack of enough trees for nidification is the main reason they are endangered.
Parakeets are monitored to guarantee if the artificial nests are working. Another highlight is the Santa Marta mountain tanager (Anisognathus melanogenys), the White-lored Warbler (Myiothlypis conspicillata), the Black-billed flycatcher (Aphanotriccus audax), the Santa Marta Blossomcrown (Anthocephala floriceps) as well as some amphibians as the San Lorenzo harlequin frog (Atelopus nahumae) another endemic species protected by the reserve.
For more information read our entry: Next Travel Ideas? Visit the Biosphere Reserves of Colombia.
Lodge features
Specialized birding guide.

Specialized library for consultation of birds and ecosystems of the area. Internet access when possible.

Trails, observation towers, terraces, and rest areas.

Giles mini pub with wine and cocktails located on the second floor of the restaurant from where you can see the spectacular sunsets of the Sierra Nevada de Santa Marta.  
Things to do
There are plenty offer of activities related with observation of endemic species of birds as well as different species of mammals and wildlife. You can enjoy different activities such as:
W

atch the sunrise and the sunset on the terraces of the koguihabs.

Bird watching from the observation tower

,

on the San Lorenzo Ridge and along the trails.

O

bserve hummingbirds on the terrace and feeders.

Do for n

octurnal birding and wildlife observation.

Visit to Cerro Kennedy for bird watching.  
Gastronomy
Fixed menu of Colombian food. The food can be tailored to the needs of the client.  
Accommodation
It can accommodate up to 36 people. Includes 10 rooms with single, double and triple accommodation, depending on the necessity: 2 balcony room, 4 rainforest room, 2 double room, 1 triple room and 1 dorm room.
Additionally, it has five individual cabins, inspired by the architecture of the indigenous Kogui tribe called koguihabs. Each room has a private bathroom and hot water.
Costs
Rates start at USD 190 per person, per night, based on occupancy and season.  
Location and weather
Humid subtropical and premontane high Andean forest at the snow capped Sierra Nevada de Santa Marta, the nearest mountain to the sea in the world, with 5800m / 19000 ft above sea level.
Near to the municipality of Minca, it is located at the San Lorenzo Ridge, with an altitude between 900 and 2600 meters/2950 and 8530 ft above sea level. On the other hand, climate is warm, with around 18°C/65°F on average, and cold at night with around 10° – 15°C/42°- 47°F.  
How to get there
It takes 3h30 minutes from Santa Marta and 3 hours from Minca. The road is rough, and it is mandatory to go up in a 4×4 truck. Many locals use motorcycle as the best way of transportation. It gets very difficult in rainy season, as you can see in the video.
If you want to schedule your birding trip in Colombia, do not hesitate to contact us, and plan your trip with us!
---
About the author
Sara Colmenares
Current director of Sula. Doctor in Biological Sciences. Her main interests are to explore and understand the organism – environment interactions, taking advantage of emerging knowledge for the management and conservation of species and ecosystem services. She is currently working as a consultant in functional ecology, ecosystem services and conservation projects in Colombia related to ecotourism and birdwatching.