Tolima Snowy Mountain Trekking Tour
Hiking & Trekking
Tolima Snowy Mountain
The Nevado del Tolima (or Tolima Snowy Mountain) is located in the department that bears his name, 142 km W of Bogotá and 28 km NW of Ibagué. It takes its name from the indigenous word Tarib, Tol: Snow – the resplendent and Yma (Ima): The supreme; it has been considered as a volcano, with a height of 5220 meters above sea level.
The Nevado del Tolima, of Quaternary origin, currently has a glacier cap with an area of ​​2.8 square kilometers and a volume of 69 million cubic meters of ice. It is an important tourist attraction as a place for mountaineering and climbings on ice, as well as for its thermal springs. El Nevado is an important part of the attractions of the National Park of Los Nevados.
The main access to the volcano is from the city of Ibague to El Silencio, passing through the small towns of Restrepo, Pastales and Juntas. From there, there are several routes that take you to the top, being the one that through the El Rancho thermal springs the most used. It is recommended to climb in dry season or hot, non rainy days.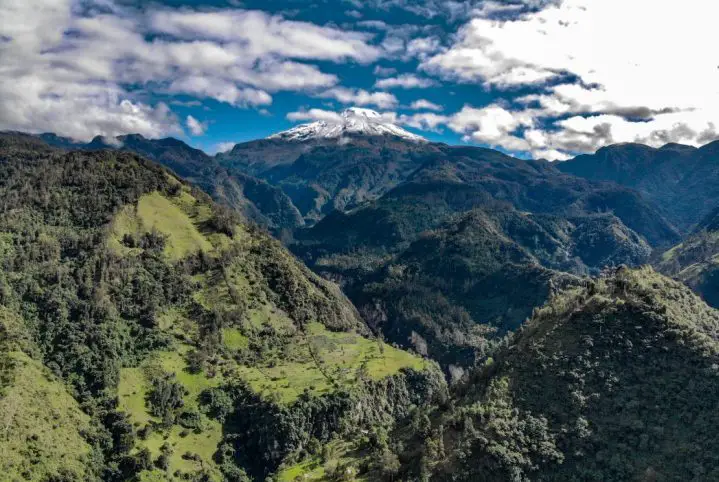 Tour Dates:
Open, preferably in dry season.
Tour Type:
Hiking & Trekking
Tour Price:
Starting at US$2000
Tour Size:
up to maximum 12 (including guides)
Tour Leader:
to be defined
We invite you to take a deeper look and to contact us if you have any questions.
Below you will find our favorite nature tours around Colombia.
Tour Dates: Open, from July to October 2021
Tour Type: Wildlife & Photography
Starting at: 12000 USD
Tour Dates: To be defined
Tour Type: Birding and photography
Starting at: 3450 USD
Tour Dates: Open
Tour Type: Birding and photography
Starting at 1000 USD