The terror of ants and termites also lives in Colombia. They are creatures with a docile character and poses no threat to man. On a tailored wildlife holiday with SULA, you have a good chance to see anteaters in Colombia, such as the Giant Anteater (Myrmecophaga tridactyla) and the Tamandua, or lesser anteater (Tamandua tetradactyla). They can often be found in savannas, and open grasslands, where the termites upon which they feed are abundant.
The Anteaters
The South American anteater is an animal that has a tongue similar to that of a long worm, which is why it is classified in the suborder Vermilingua, which literally means "worm tongue". The anteaters are predators specialized in eating insects, especially ants and termites.
Anteaters are distant cousin of sloths and armadillos, and contrary to what you may think, they have nothing to do with aardvarks, numbats, echidnas, pangolins, and some spiders, which are also called anteaters.
Anteaters are endangered species, rice crops, African palm plantations, and livestock are the main causes of displacement of the anteater from its natural habitat. Forced displacement affects their diet and their reproduction rates decrease; in addition, anteaters may be run over by vehicles or face other problems with humans.
Ecotourism is a source of income to promote their study and conservation.
Anteaters Species
There are four species of anteaters still alive: the silky anteater (Cyclopes didactylus), the giant anteater (Myrmecophaga tridactyla), the northern tamandua (Tamandua mexicana) and the southern tamandua (Tamandua tetradactyla).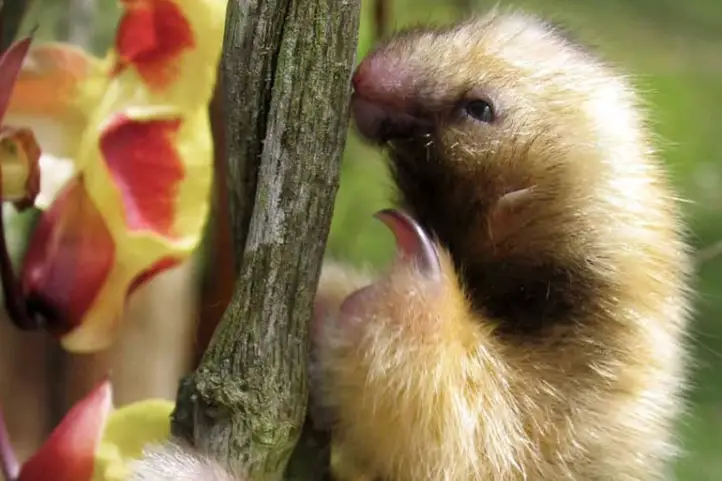 The difference between them lies mainly in the habitat in which they live, which includes tropical dry forests, rainforests, grasslands and savannas, although not in the Andean mountainous regions. The giant anteater lives in savannas. And that is where they can be found in Colombia.
As for the two anteaters of the genus Tamandua, and the silky anteater, they are much smaller than the giant anteater, their fur is yellowish, and they live in trees.
The Wold Anteater Day is celebrated on 29 November every year, reminding the importance of their conservation.
Where do Anteaters Live
Originally, these animals were exclusive to South America, but once the isthmus of Panama was formed about three million years ago, anteaters expanded their range to Central America.
Thus, giant anteaters can be found as far as Central America, while silky anteaters and northern tamanduas reach as far as Mexico. Southern tamanduas extend as far south as Uruguay.
There are several names for anteaters in south America, and they depend on the species. The giant anteater is called ant bear, "oso hormiguero" in Spanish, the silky anteater is also known as pygmy anteater, and for the tamanduas there are names such as tamanduá, guazú, yautare, kuarevachú, Oso Bandera, and Oso Palmero.
Where You Can Find the Anteater
Anteaters are widely distributed in South America and can be found in the following countries:
Argentina (Provinces of Formosa, Chaco, Misiones and Salta)
Bolivia
Brazil
Colombia
Costa Rica
Ecuador
Honduras
Nicaragua
Peru
Paraguay
Venezuela
7 Facts about Anteaters you cannot miss
Anteaters can swallow a total of 35,000 ants and/or termites per day.
The anteater tongue flicks 150 times per minute, and has thousands of tiny hooks and large amounts of saliva to eat ants or termites from trees and mounds.
The anteater's stomach is similar to a bird's gizzard, using small amounts of sand and dirt to digest insects.
Unlike other mammals, Anteaters don't have teeth.
Anteaters have a disgusting smell to defend themselves from their biggest predators, Puma and Jaguar, they also have long arched claws on their strong legs that may cause fatal injuries.
Female gestation is of approximately 190 days. After birth, offspring are carried at the female's back for 2 years, camouflaging themselves in the mother's fur.
They are one of the most ecological animals on the planet. Despite the large number of ants they consume, anteaters are very careful when eating and do not destroy the habitat of ants and/or termites.
Myths and Legends around the Anteaters
The anteater is perceived as a strange looking animal although it is viewed sympathetically and fortunately without culinary objectives. Its rarity and vulnerability, being so specialized in its feeding, promote it as a symbol of conservation, and also as a great attraction for nature tourism.
The anteater appears in several South American legends and stories, both indigenous and Creole. One of the most attractive is the one compiled by the writer Graciela Repún, which comes from the Kaingangá Indians of the jungle of Misiones (Argentina).
It seems that after the great flood, Kadjurukré, their creator god, worked at night to model with mud the animals of the jungle and when he was trying to finish the anteater, in a hurry because the sun was rising, he took a stick and put it in his mouth as a tongue because he did not have enough time to put teeth. And so he sent it to eat ants….
Where to See Anteaters in Colombia
The geographical distribution anteaters in Colombia is extensive. However, despite the wide distribution of anteaters in Colombia, the best place to watch them is in the Eastern Plains of Colombia.
There are several places to go in a Safari where it is possible to find these animals hanging around the savannas or the riparian forests. The best time to see the anteater is dry season between December and late March.
Here in SULA we offer a Safari that goes through Casanare an Meta departments, in the eastern plains of Colombia, where anteaters and other species present in this region can be spotted.
Casanare
The conservation, education and research work of the Yopal-based environmental organization Fundación Cunaguaro includes anteaters. That includes monitoring the absurd number of road killings of these creatures – 400 giant anteaters a year and at least 1,500 tamanduas.
The foundation promotes ecotourism on large private estates, from where you can go out in search of the anteaters in Colombia.
It is a group of cattle ranches which covers 9,000 hectares of inundable savannah and acts as a strategic wildlife corridor. El Encanto de Guanapalo Natural Reserve is conformed by 3 haciendas with a total area of 90 square kilometers, you can have a typical experience of the eastern plains, along with the conservation of the flora and fauna of the sector.
Wild horses and termite mounds at Casanare's savannas.
Corocora Camp, the first luxury safari camp in Colombia. It is located two and a half hours from the Yopal airport by 4×4 vehicle. There you will find five large beige canvas tents, identical to those of the high-flying African safaris.
La Palmita Reserve
The municipality of Trinidad hosts La Palmita nature reserve, which has a research center that is responsible for acquiring knowledge of the biological and social diversity of the Orinoquia region for its conservation.
Meta
Find out more information about Meta anteaters destinations in our entry #1 Llanos Experience near to Bogotá: The Llanero Dawn Route in Meta.
Recommendations for your visit
Take yellow fever and tetanus vaccines shot prior to arrival.
Do not forget that mosquito repellent is highly recommended.
Bring rubber boots, a raincoat, long-sleeved shirts, sunscreen.
Leave no trace.
Carry valid identity documents and health insurance.
If you take specific medications, take them with you.
It's never too much to carry a personal medicine kit.
If you want to plan your trip to Colombia do not hesitate to contact us, visit our Plan your trip page!
References
About the authors
Sara Colmenares
The current director of Sula. Doctor in Biological Sciences. Her main interests are to explore and understand the organism–environment interactions, taking advantage of emerging knowledge for the management and conservation of species and ecosystem services. She is currently working as a consultant in functional ecology, ecosystem services, and conservation projects in Colombia related to ecotourism and birdwatching.
Luisa Martin
Engineer, world traveler, amateur photographer, traveling blogger, and foody.