The second half of the year is the best time to see whales in Colombia. Here you can witness an astonishing show sponsored by nature: the migration of humpback whales from cold Antarctica to the waters of its Pacific coast. 
Whale watching in Colombia is one of the greatest experiences nature travelers can live. Plus, the kind people, the tasty food and the breathtaking landscapes of this biodiverse country make your trip to Colombia an unparalleled adventure.
In this post, we will tell you where to see whales in Colombia, how you get to those destinations and what you can do there, the best season for whale watching and some recommendations for your whale watching trip. 
Whale Watching Season in Colombia
During the second half of the year, large groups of Humpback whales (Megaptera novaeangliae) migrate from Antarctica and Southern Chile during the winter to the warm waters of the northern Pacific Ocean to mate, give birth and raise its calves.
The route is about 8,000 km.  Although the whale migration to Colombian waters occurs from late June to November, it is more likely to see the whales from July and October.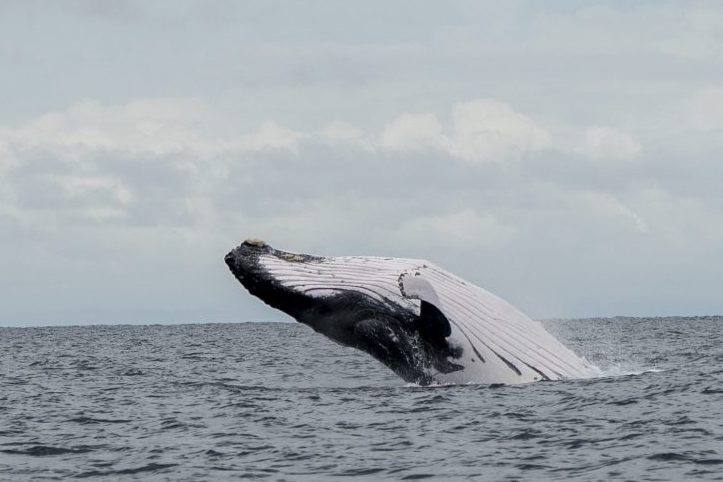 Humpback whales have robust bodies, large flippers, and many irregular fleshy knobs. They are almost entirely black, with some white spots.
You can distinguish its spout because it is an expanding column, somewhat balloon-shaped, which can reach up to 6 meters (20 feet) high! These marine mammals range from 13 to 16 meters (43 to 52 ft) and weigh around 30 metric tons.
One interesting trait about humpback whales is the songs produced by males, which last 10 to 20 minutes and are thought to be the longest continuous vocalizations of any mammal. 
During the migration season of whales in Colombia, you can be part of the lucky travelers that see them playing around and listen to their songs! 
Where to See Whales in Colombia
Chocó, Cauca and Valle del Cauca are the best places to see whales in Colombia. These three departments cover most of the country's Pacific coast and stand out for its warm climate and people. The food, in general, is also great.
But the most amazing thing about these regions is the biodiversity they host since they belong to the Biogeographic Chocó with 2,750 of endemic plant species, moist, dry and montane forests, and a variety of wildlife. Bahía Solano, Nuquí, Gorgona island and Málaga Bay are favorite spots to watch whales in Colombia!  
Bahía Solano
Bahía Solano is one of the coastal municipalities of Choco, the one with most inhabitants (9,400). It is located in the northwest of Colombia, in the Serranía del Baudó. It acts as an economic and tourist center of the region.
The solaneños live from fishing and tourism, which has grown over the years with the increasing interest in nature and eco–tourism. The megadiverse rainforest and sea are deeply cherished in the region. 
Our whale watching tour in Bahía Solano is an ecotourism experience, where you not only have fun seeing the whales' acrobatics but you learn from a scientific perspective about these large mammals and the environment around you.
The tour also includes a stop to practice snorkeling and listen to the whales' song underwater, and sail to the Mecana beach, where you can enjoy a natural pool of the river and wildlife observation. It is also possible to tour the mangrove in Mecana. 
How to 
get there
By 

plane

: There are daily flights from the cities of Medellín, Quibdó, Pereira

,

 and Bogotá to José Celestino Mutis Airport in Bahía Solano. 

Flights take up to 2.5 hours.

 

By boat: Some ships travel from 

the port of Buenaventura to the seaport in Bahía two times a week in a 6-hour ride.

 
Accommodation
There are a few hotels in Bahía Solano with medium to good quality. We can recommend these: 
Hotel Costa Chocó

is in the town center and offers big rooms with air condition

ing

, balconies, pool, restaurant and a rooftop with 

a 

view. 

 

Playa de Oro Lodge

is a two-floor hotel in front of a golden beach in Punta Huina, which you can get to after a 20-minu

te 

boat ride from the Bahía Solano port. Although the rooms have no view, from the restaurant you can see the ocean.

 

El Almejal Ecolodge

is 40 minutes south of Bahía by road and is pri

vileged to have a private natur

e

 reserve and the Utría NNP just 30 minutes away. The accommodation is in separate cabins.

 
Other Attractions
In Bahia Solano you can visit several waterfalls —such as Cascada del Amor and Nabugá—, beaches —Punta Huina, Playa de Los Deseos, Cuevitas, Mecana—, crystalline rivers and the Utría NNP.
At this rich park with mangroves, coral reefs, rocky littorals, and tropical rainforest, you can practice diving, snorkeling, hiking, bird, dolphin and turtle watching. 
Nuquí
 Nuquí is a municipality south of Bahía Solano, also on the Pacific coast, with nearly 9,000 inhabitants. Most of them are Afro-Colombians, while others belong to indigenous communities.
Nuquí is another great destination for ecotourism and community-based tourism in Colombia, as it shares the Utría National Natural Park with Bahía Solano. 
How to get there
By air: You can fly from Bogotá, Medellín, Pereira and Quibdó to the Reyes Murillo Airport in Nuquí. Check Aexpa and Satena airlines, or Aeronuqui and 

Grupo San German travel agencies for charter flights.

 
By boat: You can access Nuquí from Buenaventura or El Valle district in Bahía Solano.

 
Accommodation
These are some hotels where you can stay in Nuquí: 
Acuali is in front of the airport, with good,  air

–

conditioned rooms. There 

are

 a restaurant and a cafe. They also include flights directly from Bogotá.

 
La Joviseña

 is an eco

–

lo

dge in Playa Guachalito, 45 minutes by boat from Nuquí. There is no electricity during the day, but the wooden cabins are well-equipped. 

They have a private boat.

 

El Cantil 

is about 35 minutes by boat south from Nuquí, in front of the ocean with 

the 

jungle around. This eco-lodge offers 7 cabins, a hammock zone, a restaurant

,

 and 2 terraces.

 

EcoHotel Vientos de Yubarta 

is located on the beach of Nuquí and offers private transportation to the hotel as well as different nature tourism activities.

 
Other 
Attractions
There are scuba diving spots such as Piedra de Fidel, Parguera, Piedra Bonita and El Chuzudo. Surfers can visit beaches such as Playa Terquito, Pico de Loro, Pela Pela, El Chorro, Playa Brava, among others. Hot springs are also worth visiting, as the Joví and Coquí rivers. 
Gorgona Island
Gorgona is a mysterious island on the Pacific ocean, within the department of Cauca, with dense tropical rainforest and rich coral reefs. Actually, it has been a national natural park since 1984 that includes the neighbor small island of Gorgonilla. 
It is a top nature tourism destination in Colombia because of its biological richness, to the point that it has gained the name of "Science Island" for all the information it has given researchers to understand the ecosystems and effectively manage the protected area.
This is a great spot for whale watching in Colombia. Not only you can see whales, but Gorgona also has 381 fish species, 11 whale and dolphin species, and 4 sea lion species. 
How to get there
By plane: 4-hour connection flight from Bogota to Guapi. TAC and SATENA operators offer a daily round trip from Cali and Tumaco respectively.

 
By boat: You can book a boat service from Guapi that will take you to 

the island in an hour and a half up to 2 hours. Otherwise, from the Buenaventura port, there are speedboat services that offer round trips for groups of over 10 people.

 
Accommodation
The licensed operator in the park offers accommodation for 2 to 7 people in cabins and an oceanfront house for groups up to 4 members. 
Other Attractions
Explore the island through its 4 hiking trails that allow you to see the ruins of a maximum-security prison built in the 1960s, the ocean, and the species that inhabit the rainforest. During birdwatching tours, you can see frigate birds, pelicans and booby birds (Sula). There are several sites to practice snorkeling and scuba diving to see whale sharks, whitetip reef sharks, and coral reefs.  
Uramba Bahía Malaga
 Uramba Bahía Málaga is a National Natural Park of 47,000 hectares located in Buenaventura, Valle del Cauca. This park belongs to a regional conservation corridor,  along with the Farallones de Cali NNP and Munchique NNP.
Because of its biodiversity, it is considered a world conservation hotspot. Rocky coasts, gray-ish beaches, blue sky, lush, pristine jungles surrounding emerald waters, mangroves and islets make up the landscape of the bay. 
This is another paradise for humpback whales in Colombia to breed their calves. Local tours for whale watching are offered here, guided by young locals. 
How to get there
You can fly from Bogota to Buenaventura, or get to Cali –whether by plane or by road, and then drive about 2.5 hours to Buenaventura. There you have to take a boat for 1.5 hours to the Juanchaco pier,  where the tour boats await tourists. 
Accommodation
You can look for hostels along the coast in nearby villages. 
Other Attractions
Jump off the Sierpe waterfall and take a dip in the natural pools of Las Tres Marías, which flow into the sea. You can practice adventure sports such as kayaking, and more relaxed activities including hiking and birdwatching. 
Recommendations for Whale Watching in Colombia
Whales prefer to go out when the sea is calm and the sun

,

 less intense, so it is more likely to 

spot whales

 during the first hours of the day or in the late

 evening.

 

These whale-watching destinations have

 warm, humid weather, with 

a 

high level of rain. Dress accordingly for your tour: wear light clothes — preferably long sleeves, good shoes, and cap. 

Also

,

use coral-friendly sunscreen and insect repellent.

Take binoculars with you, apart from a charged camera or cellphone to record the experience.

 

Beware that the boat you ride does not come too close to the whales

 since this can scare them or even set apart moth

ers from their calves. The minimum average distance is 200 meters.

 

Consider booking your tours with agencies working directly with local communities and respecting the environment.
We at Sula promote sustainable tourism, so we seek to contribute to the local economy and to raise awareness about caring for the megadiverse country that is Colombia. 
 Find more wildlife tours in the Colombia wildlife tours blog 
References
About the author
Ana María Parra
Modern Languages professional with emphasis on business translation. Interested in cultural adaptation of written and audiovisual content.  Passionate about knowing new cultures and languages, tourism and sustainable living.