Minca is a small town located in the foothills of the Sierra Nevada de Santa Marta, 650 meters above sea level, and about 14 km from the center of the city of Santa Marta, in the department of Magdalena, northern Colombia.
Brief Intro about Minca
It is considered the ecological capital of the Sierra Nevada de Santa Marta. It is a region with a vocation for coffee, and for many years it attracted inhabitants from the north of Santander who took advantage of its land and climate for the cultivation of coffee.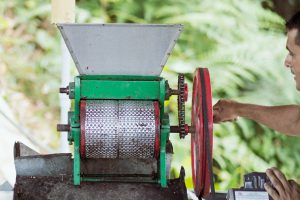 In the past, it was an area marked by armed conflict. Today it is a safe place. However, in Colombia, and everywhere, it is better not to give papaya. I recommend you not to go out without the accompaniment of a certified guide, especially if you go to the waterfalls or to the hotels outside the city, and at night.
Minca has a rich archaeological history and is an ecological paradise with the crystal clear Minca River and its immense green vegetation.
This place served in the past as a habitat for the Tayrona culture. Today they are found in the indigenous peoples belonging to the Kággaba (Kogi), Ijka (Arhuaco), Wiwa (Arzarios) and Kankuamo in the highlands.
Minca has multiple lodging sites, it is the corner of painters, sculptors and artisans. There are also several coffee producing haciendas that have opened their doors to tourism.
If you decide to visit Minca, in this blog you will find a travel guide to Minca, learn what to do in Minca, where to stay in Minca and more.
How to get to Minca
No matter where you come from, to get to Minca you will have to get to Santa Marta first.
Once in Santa Marta, you can book a private transfer to Minca from Santa Marta which does offer convenience. Some people prefer to arrive by cab or even by motorcycle.
Once in Minca, motorcycle or 4×4 car become the only transportation option, especially in the rainy season which is from October to December and from April to May.
If you are going to the higher areas, it is necessary to go up by motorcycle or 4×4 car, since the road is not paved, it is narrow, and when it rains it becomes a river of water, and a reservoir of mud. But don't worry, I promise you that the experience can be really fun!
What you can do in Minca
Thanks to its geographical position, Minca and its surroundings have different attractions.
It is a place where you can enjoy a cooler climate if you come from beach areas like Cartagena or Santa Marta.
There you can do everything related to nature tourism: hiking, mountain biking, bird watching, water tourism in rivers and waterfalls, adventure, rest and coffee.
Bird watching
Minca's altitudinal gradient makes it a very interesting destination for bird watching, also because it is located in the Sierra Nevada de Santa Marta, which is a hotspot of endemism not only for Colombia, but worldwide.
Two hours by car from Mica is the El Dorado Natural Reserve, ideal for observing endemic species of the Sierra Nevada.
In its surroundings there are about 300 species of birds, both resident and migratory. It is a region of coffee plantations, with habitats ranging from dry forest, rain forest, cloud forest, and páramo (moorland) in the higher parts.
To learn more about birding in Mica and the Sierra Nevada de Santa Marta, visit our entry Colombia's Prime Birding Destination: Sierra Nevada de Santa Marta.
Among the most striking species are Santa Marta Brush-finch, Sierra Nevada Brush-finch, Santa Marta Parakeet, Scarlet-fronted Parakeet, Santa Marta Warbler, Santa Marta Foliage-gleaner, Santa Marta Antbird, White-lored Warbler, Santa Marta Tapaculo, Brown-rumped Tapaculo, Whooping Motmot, Golden-winged Sparrow, Santa Marta Emerald Toucanet, White-tipped Quetzal, Santa Marta Blossomcrown, and many others.
Wildlife Watching
In addition to bird watching you can go on night safaris, especially around El Dorado Natural Reserve.
In Minca you can find the habitat of many species and there is a high concentration of endemic species, not only birds, but also frogs, reptiles, butterflies, plants and beautiful landscapes.
Hiking and Trekking
Minca is also an ideal destination for trekking. There are several routes, but among the most recognized are Las Piedras, Los Pinos and Cerro Kennedy.
The most recommended hike is of medium intensity, with one day of duration, and 11 km of route. It begins by leaving Santa Marta by land transport to Finca La Victoria, where you can learn about the process and history of coffee in this region.
From there you will continue walking and getting to know viewpoints and the diversity of bird species until you reach the area of Los pinos, 1,300 meters above sea level. From Los Pinos you will descend to the waterfalls of Marinka, being the final and refreshing point of the tour.
Cerro Kennedy is another good destination for trekking in Minca. Most travelers choose to do this route on foot, but for mountain bike fans, there is a mountain biking route as well as the option to go up by bike.
The hike to Cerro Kennedy is of a moderate to difficult level. It is a 25 km route from Minca, to go and back takes two days. You will go from 650 meters above sea level, to 2700 meters. There you will find fascinating views of the Sierra Nevada de Santa Marta.
Water Tourism
Pozo Azul
After a 45 minute walk from the center of Minca, you will find Pozo Azul, which crosses the Minca River.
Cascades of Marinka
They are found after a walk of 90 minutes from the center of the town. You will have to pay for a small admission fee.
At Marinka you will find two waterfalls, one of them with a natural pool. There are also bathrooms and a café.
Adventure
Cycling or Mountain Biking in Minca
There are many plans and routes in the mountains and around Minca. You will be able to live an incredible adventure full of adrenaline. There are tours from beginners to advanced.
Rappel down waterfalls.
You can practice rappelling in the Marika waterfalls.
Coffee and Beer Experiences
La Victoria Farm
La Victoria was founded in 1892 and is one of the largest and oldest coffee estates in northern Colombia. It is located about a 90 minute walk from the town of Minca.
In addition to producing top quality organic coffee, La Victoria is home to Nevada, a small brewery that makes artisanal beer using pure mountain water and local products such as coffee and coca leaves.
La Victoria has also embraced tourism as an alternative source of income, offering guided tours that explain the history and operation of the coffee farm, you can learn the entire process of cultivation and preparation for export, and see their early 20th century machines that run on hydroelectric power.
The farm also has its own nature reserve for the enjoyment of bird watchers and nature lovers.
Where to stay in Minca
Minca has many houses, hostels and farms that offer their guests comfort and tranquility. They are available in all types and prices. Here I will recommend some of the best options:
#1 Birdlodge in Minca
#1 Hostel in Minca
Casas Viejas Hostel Lodge
#1 Private House
Oropéndola House
#1 Coffee Farm
Vista Nieve Farm
Recommendations when visiting Minca
Go prepared for the heat, Minca has 80% average relative humidity, and 32 degrees average temperature.
Bring repellent, sunscreen, towel, bathing suit.
Wear proper walking shoes.
If you want to know more about the most incredible natural destinations in Colombia, plan your trip with us!
References
About the author
Sara Colmenares
Current director of Sula. Doctor in Biological Sciences. Her main interests are to explore and understand the organism – environment interactions, taking advantage of emerging knowledge for the management and conservation of species and ecosystem services. She is currently working as a consultant in functional ecology, ecosystem services and conservation projects in Colombia related to ecotourism and birdwatching.