In the early to mid last century, prison islands were all the rage. One of the most famous was Alcatraz, in San Francisco (United States) of which many books and movies were written, such as the famous Escape from Alcatraz with Clint Eastwood. There were many in the Atlantic, but all of them were inhabited. In Colombia, the uninhabited Gorgona Island, in the Pacific, was the perfect place to create a prison where more than 4,000 prisoners served their sentences.
Around the decade of the 80's, 70% of the Gorgona island was deforested, as 10 tons of firewood were used weekly to cook for more than a thousand people. Fortunately, the ecological wave that rising everywhere, saved this unique and magical place from being completely wiped out.
Today it is known as the Gorgona National Natural Park, a spectacular place to visit, which, according to biologist Mateo Lopez, it serves as a barrier against climate change. It rains so much that the water production is immense, forming 75 streams in winter. Besides this, in Gorgona there are unique species such as the spectacular blue anole (Anolis gorgonae). This is a small Galapagos, but in Colombia!
Discovering Gorgona National Natural Park
Gorgona National Natural Park, made up of three islets,  is on the Pacific Ocean in the western part Colombia, between the island of Malpelo and the port of Buenaventura. This small paradise has an extension of about 26 km² of land  and 616.88 km² of marine area.
Gorgona has one of the most beautiful and complex ecosystems on the planet. It is possible to appreciate a tropical rainforest, beautiful coral formations and Indo-Pacific coral reefs. During the months of June and October it is possible to appreciate the migration of humpback whales, which come to this point to give birth to their calves, named ballenatos in Spanish.
A little bit of Gorgona's History
The Sindagua native (precolonial aborigins) inhabited Gorgona around 1500 a.c. By 1526 the island was discovered by the Spanish conqueror Francisco Pizarro who gave the island its modern name "Gorgona" thanks to the large number of snakes on the island, recalling the Greek mythology, where the gorgons instead of wearing hair carried snakes.
In 1959 the president of Colombia Alberto Lleras Camargo ordered the construction of a maximum-security prison, which opened in 1960. The main house of the Payan family, who lived on the island, was modified to be the prison administration.
In 1984 President Belisario Betancur closed the prison and authorized the house to be turned into a museum. The island was then declared a protected area designated for scientific research.  Entry since then was restricted, but nowadays is open for ecotourism.
Pirates in Gorgona Island
It is estimated that in the centuries XVII and XVIII Gorgona was the refuge of pirates, because it was considered a privileged point to set full sail to attack the galleons returning to Europe from the colonies with large amounts of gold. After the attacks they sailed up the seas to Panama.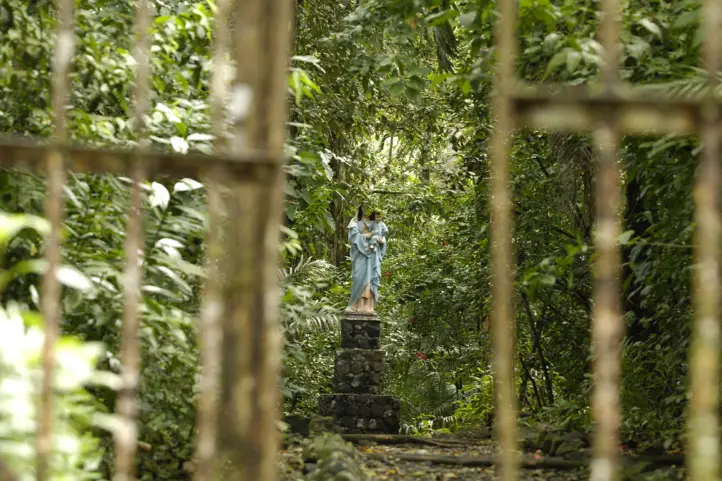 Gorgona Prison Escape Stories
Daniel Camargo Barbosa, known as the "Monster of the Mangones" was sentenced to 16 years in prison for the kidnapping, rape and murder of a nine years old girl in Barranquilla. After his capture it was learned that in his home he had a record (photographs and underwear) of 170 girls and women from Colombia and Ecuador whom he raped and murdered.
On November 23, 1984 it was confirmed that "Camargo", as he was known, did not return to the patio number 2 where he was confined and no more information was obtained from him after the weekly bath that the prisoners had on the beach.
3 days later they found a boat destroyed at the shore and thought that sharks had killed the Camargo.  An order  to suspend the "search mission" was issued and the version that the "fugitive had died in his escape attempt" was officially released.
The prison had so far 21 records of escape attempts but none of these men were found alive. The traces of the bodies were found in the remains of the boats in the middle of the ocean.
The only escape that was confirmed much later was that of Pedro Ariza and his nephew Alberto Lopez,  together with their dog Jacqueline. They all managed to survive because they were rescued by a crew of tourists who took them to the port of Buenaventura.
Gorgona Island as a Protected Area
Gorgona Island currently belongs administratively to the municipality of Guapi, Cauca. The protected area consists of the islands Gorgona and Gorgonita, and the islets El Viudo and El horno.
The island is the largest in the world in terms of freshwater production, with 25 freshwater streams and 120 transient streams. The island also has 2 lagoons Tunapurí and Ayantuna, located on the southeastern side of the island, and are home to babillas (small size alligator type reptiles).
The highest point of the island is La Trinidad with a height of 338 meters above sea level. There are additionally  3 other small hills of lower altitude: Los Micos, La Esperanza and El Mirador.
Importance for Conservation and Local Communities
Gorgona Island is an important coastal marine conservation enclave in the Colombian Pacific. Due to its environmental characteristics, the biological diversity on Gorgona Island is considerable. As of 2004, 715 plant species and 1398 animal species had been reported, without considering terrestrial invertebrates and zooplankton species (UAESPNN, 2004). Among these, six endemic species stand out:
Nhotria gorgonensis (marine worm),
Maldane gorgonensis (marine worm),
Hypobolosera gorgonensis (lung crab),
Dyrmaeus gorgoniensis (land snail),
Parides gorgoniensis (butterfly),
Anolis gorgononae (blue anole),
And six endemic subspecies:
Thamnophilus punctatus gorgonae (Black-crowned Antshrike),
Coereba flaveola gorgonae (bananaquit),
Cyanerpes cyaneus gigas (Red-legged honeycreeper),
Cebus capucinus curtus (Colombian white-faced capuchin),
Bradypus variegatus gorgonae (Brown-throated sloth), and
Proechimys semispinosus gorgonae (Tome's spiny rat).
Additionally, of the total number of flora and fauna species that have been reported for Gorgona Island, at least six plant species and 40 animal species are classified with some degree of threat according to the IUCN categories.
In addition to the high diversity of species and ecosystems, Gorgona Island fulfills a strategic function for the coastal human communities near its area of influence, since it was traditionally used as an artisanal fishing area.
How to get to Gorgona National Natural Park
Bogotá-Palmira-Buenaventura
Take a 45- minutes flight from Bogotá to Palmira city. Once at the airport, take an approximately 3- hours ride to Buenaventura. Once at Buenaventura port  you should take an extra 12-hour boat ride to Gorgona.
Bogotá-Palmira-Guapi
Take a 45- minutes flight from Bogotá to Palmira city. Once at the airport, take a flight to Guapi with Satena airline. Finally, from Guapi you should take an extra 1,5-hour boat ride to Gorgona.
What to do in Gorgona National Natural Park
Diving and snorkeling
Gorgona Island is a wonderful place for diving and snorkeling thanks to the great variety of marine fauna and flora species, including whitetip sharks, turtles of different species, groupers, octopus, large schools of snappers, jacks, among others, along with the beautiful and colorful coral reefs found on the island.
The park has 12 authorized dive sites with a maximum depth of 40 meters; the most recognized are: El planchón; La tiburonera; El remanso; La parguera; La plaza de toros; El horno and Las montañitas.
These areas have the optimal conditions for a unique experience. Bear in mind that in order to dive in this waters you need to have certified experience.
Hiking and Trekking
Hiking is the most exciting activity in Gorgona National Natural Park. You can hike along 4 trails: Antiguo Penal, Playa Palmeras, Yundigua y Higueron. This activity allows you to admire majestic landscapes among a paradisiacal tropical jungle while admiring the place that was once a prison.
Birdwatching
In Gorgona the most representative birds are the frigate bird, the pelican and the sulas. Other species of birds from Malpelo island that can be seen during the traveler's stay are: the Red-billed tropicbird (Phaethon aethereus) nesting in Malpelo, Galapagos and California; the Pomarine and Long-tailed jaegers (Stercorarius pomarinus and S. longicaudus); the Audubon's Shearwater (Puffinus iherninieri), the sooty shearwater (P. griseus), and the black storm petrel (Oceanodroma melania).
Wildlife Observation
The coral formations of the island are divided into sectors: La Ventana is the one with the largest coral extension (73.2%), followed by Playa Blanca (66.4%) and finally La Camaronera and La Azufrada (44.15%). Corals present in Gorgona belong to 18 different species of a group of 6 reef families.
The park has a record of 381 species of marine fish, 11 species of whales and dolphins, and 4 sea lions. In the second half of the year it is possible to see humpback whales, despite the possible rains.
Where to stay in Gorgona National Natural Park
Gorgona natural national park offers simple accommodation for travelers. In addition, the island has the beautiful Hotel Parque Nacional Gorgona, where you can enjoy wonderful facilities and an afternoon swim at a pool.
Best time to visit Gorgona National Natural Park
The climate on Gorgona Island is tropical maritime super-humid. Air temperature is generally above 26°C while relative humidity reaches 90% saturation. Average monthly precipitation ranges between 180 mm to 400 mm during the "dry" season (January-March) and between 550 mm to 750 mm during the "rainy" season (April-December).
Gorgona Island can be visited all year round, there is no dry season but the months with less rainfall are February and March. 
Gorgona National Natural Park Entrance fees
The entrance fee varies depending on the nationality and age of the visitors. These are the entrance fees for 2021:
Colombians, resident foreigners and tourists from Bolivia, Ecuador and Peru (ages 5 to 25): COP 13,500 (approx.USD 4)
Colombians, resident foreigners and tourists from Bolivia, Ecuador and Peru (over 25 years old): COP 22,000 (approx.USD 7)
Non-resident foreigners (over 5 years old): COP 53,000 (approx.USD 17)
Children under 5 years old and Colombians over 65 years old have free entrance presenting their IDs.
What to consider before visiting Gorgona National Natural Park
To take any of the tours inside the sanctuary you must hire an authorized and certified guide.
Gorgona is one of the mating, breeding and feeding sites of the humpback whale. For this reason observing whales must be done under supervision of authorized guides;
Consider wearing personal protective items (sun blocker, sunglasses, towel, insect repellent, and hat).
The use of flash when taking photographs is prohibited.
Recommended the use of binoculars to admire animals' behavior and beauty in their natural habitat.
Carry valid identity documents and health insurance. It is recommended to be vaccinated against yellow fever and tetanus.
If you take specific medications, take them with you a personal first aid kit.
Some prohibitions
Feeding, bothering or hunting animals, alcoholic drinks and drugs, throwing cigarette butts, burning garbage, felling, and capturing wildlife.
References
Giraldo, Alan, Diazgranados, María Claudia, & Gutiérez-Landázuri, Carlos Fernando. (2014). Isla Gorgona, strategic enclave for conservation efforts in the Eastern Tropical Pacific. Revista de Biología Tropical, 62(Suppl. 1), 1-12. Retrieved May 27, 2021, from http://www.scielo.sa.cr/scielo.php?script=sci_arttext&pid=S0034-77442014000500001&lng=en&tlng=en.
About the authors
Luisa Martin
Engineer, world traveler, amateur photographer, traveling blogger, and foody.
Sara Colmenares
The current director of Sula. Doctor in Biological Sciences. Her main interests are to explore and understand the organism–environment interactions, taking advantage of emerging knowledge for the management and conservation of species and ecosystem services. She is currently working as a consultant in functional ecology, ecosystem services, and conservation projects in Colombia related to ecotourism and birdwatching.