Hiking & Trekking
Lost City
Lost City Tour.
Ciudad Perdida, or Lost City, was built by the Tayrona indigenous culture around 700 AD. and it was the most important urban center among the 250 indigenous settlements discovered so far in the Sierra Nevada de Santa Marta. Its population oscillated between 1,400 and 3,000 inhabitants.
Teyuna, as it is also called, was made up of more than 250 terraces distributed in eight "neighborhoods" whose space served to live, work and perform religious ceremonies. The sectors of the city were communicated through a network of paved roads and stairs located on the slopes that guaranteed access to the fields of crops.
Lost City is a majestic place due to the particularity of its landscapes, ecosystems, biodiversity and architecture, built hundreds of years ago by the now extinct Tayrona culture. We invite you to visit a unique place in the world, where the exuberance of the Sierra Nevada de Santa Marta leaves a tangible trace of its history, culture, natural art and endless living beings that bring color, life and majesty.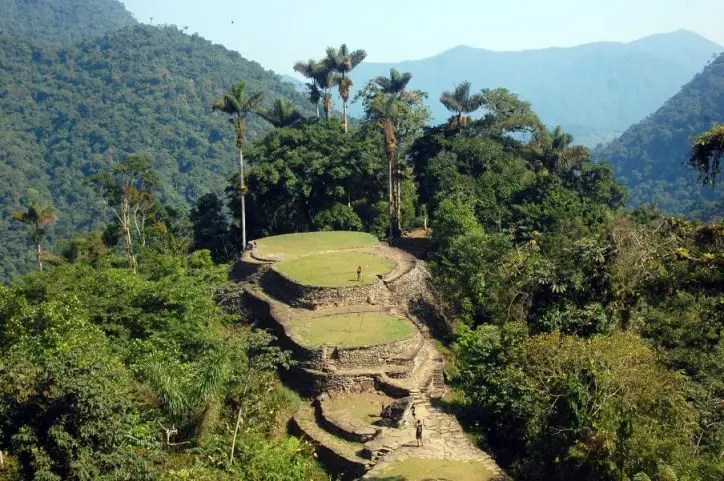 Tour Dates:
Open.
Tour Type:
Hiking & Trekking
Tour Price:
Starting at US$500
Tour Size:
up to maximum 10
Accommodation in camps (hammocks or beds with awning)
Entrance to the Teyuna archaeological park (ICANH)
Knowledge and interaction with peasant and indigenous communities
Approximate time: Santa Marta – Mamey (3 hours by vehicle); Mamey to Camp 1 (4 hs.). The Ciudad Perdida tour starts from the moment we pick you up or with your arrival to the facilities of our office, from here we start by jeep in a journey of approximately 3 hours to the village of Mamey, where we will start to our walk of about 7.6 km. Half way we will stop at the Mirador de las Tres Cruces to taste delicious fruits and continue to the first cabin "Adán" or "Alfredo" a few minutes later, where we will spend our first night. During this tour we will enjoy natural pools that the Sierra Nevada of Santa Marta offers us and in which we can take a delicious bath.
Facilities in camp 1: Electricity, bathrooms and showers.
Approximate time: Camp 1 to Camp 2 (3 hours); Camp 2 to Mutanyi (20 min.); Mutanyi to Camp 3 "Paradise Teyuna" (5 hs.). Our new day brings us another adventure where after breakfast, the journey begins from the first camp to the second "Cabaña Wiwa" where we can enjoy a refreshing swim in the Buritaca River while we wait for lunch. After a short rest, our adventure continues into the Sierra Nevada, bordering an indigenous village of the Kogui community called "Mutanyi" and we will continue until we reach the third camp "Paraíso Teyuna", where we will spend the second day.
Facilities in camp 3: Bathrooms and showers, electricity powered by generator (from 6 pm / 9pm.)
Approximate time: Camp 3 to Ciudad Perdida (1 hs.); Tour in the Archaeological Park (3 hours), camp 3 to camp 2 (4 hours). Very early we have breakfast, we will travel 2 km to start the ascent to Ciudad Perdida climbing 1,200 steps that lead us to this majestic stone city composed of interconnected roads, retaining walls, terraces with rings where the dwellings of the ancient Tayronas rested. All surrounded by a magical jungle of fauna and flora that gives us different views and landscapes from the sunniest days to the cloud forest. Here we can also meet the leader and protector of Mother Nature and the ancient Tayrona empire. After our tour we will descend to our third camp "Paraíso Teyuna" for lunch and then return to the second camp "Cabaña Wiwa" where you will spend the night.
Facilities in camp 2: Electricity, bathrooms and showers (limited)
Approximate time: Camp 2 to El Mamey (6 hours). After having breakfast, you will leave on a walk of approximately 2 hours to the Camp of Adam or Alfredo, as on the first night. Once in the first camp you will take a quick break of fruit and water and continue for another 4 hours all the way back to Mamey where you will have lunch and board a 4×4 truck that will bring you back to Santa Marta.
We invite you to take a deeper look and to contact us if you have any questions.
Below you will find our favorite nature tours around Colombia.
Tour Dates: Open, from July to October 2021
Tour Type: Wildlife & Photography
Starting at: 12000 USD
Tour Dates: To be defined
Tour Type: Birding and photography
Starting at: 3450 USD
Tour Dates: Open
Tour Type: Birding and photography
Starting at 1000 USD